£10,000 wedding in Leicester
This couple invited 60 guests. After the wedding ceremony, there was reception with a cake cutting ceremony, a wedding breakfast and an evening party with drinks, snacks and dancing. This couple had rented a historical theater as their special wedding venue.
Click here to download the spreadsheet for this £10,000 wedding budget.
THE BRIDE

TOTAL £1,298.00

Dress for the Bride

£850.00

Undergarments / Lingerie for the Bride

£50.00

Shoes for the Bride

£80.00

Hair Stylists for the Bride

£90.00

Wedding makeup and nails

£60.00

Dresses for the four Bridesmaids




£168.00




THE GROOM

TOTAL £420.00

Outfit for the Groom

£380.00

Hairdresser and Barber for the Groom

£40.00

CEREMONY

TOTAL £610.00

Officiant Fee

£100.00

Marriage License

£510.00


RECEPTION

TOTAL £6,350.00

Venue for the whole day

£950.00

Appetizers (1.5 hours, 60 people)

£600.00

Wedding breakfast (60 people)

£2,550.00




Catering Rentals (tables, chairs,linen etc)

£110.00




Open Bar (4 hours, 60 people)

£1,260.00

Party snacks

£300.00

DJ

£390.00

Sound and Lights Equipment Rental

£110.00


Decorations

£

80.00

PREPARATIONS

TOTAL £150.00

Invitation cards

£150.00

FLOWERS

TOTAL £380.00

Bouquet for the Bride

£75.00

Boutonniere for the Groom

£10.00

Bouquets for the four Bridesmaids

£80.00

Flowers for the Wedding Locations

£215.00

WEDDING CAKE

TOTAL £186.00

Wedding Cake (62 pieces)




£186.00




MISCELLANEOUS

TOTAL £1,040.00

Photographer

£950.00

Wedding Insurance

£70.00

Guest Book

£20.00

TOTAL BUDGET

£10,434.00
Download Excel spreadsheet with £10,000 wedding budget
Click here to download the spreadsheet for this £10,000 wedding budget.

Typical wedding budget breakdowns
The infographic and table below give a high-level breakdown of wedding budgets. The majority of the wedding budget is usually spent on the wedding ceremony and reception. Not a big surprise as beverages and meals for the (large number of) guests is frequently a high cost.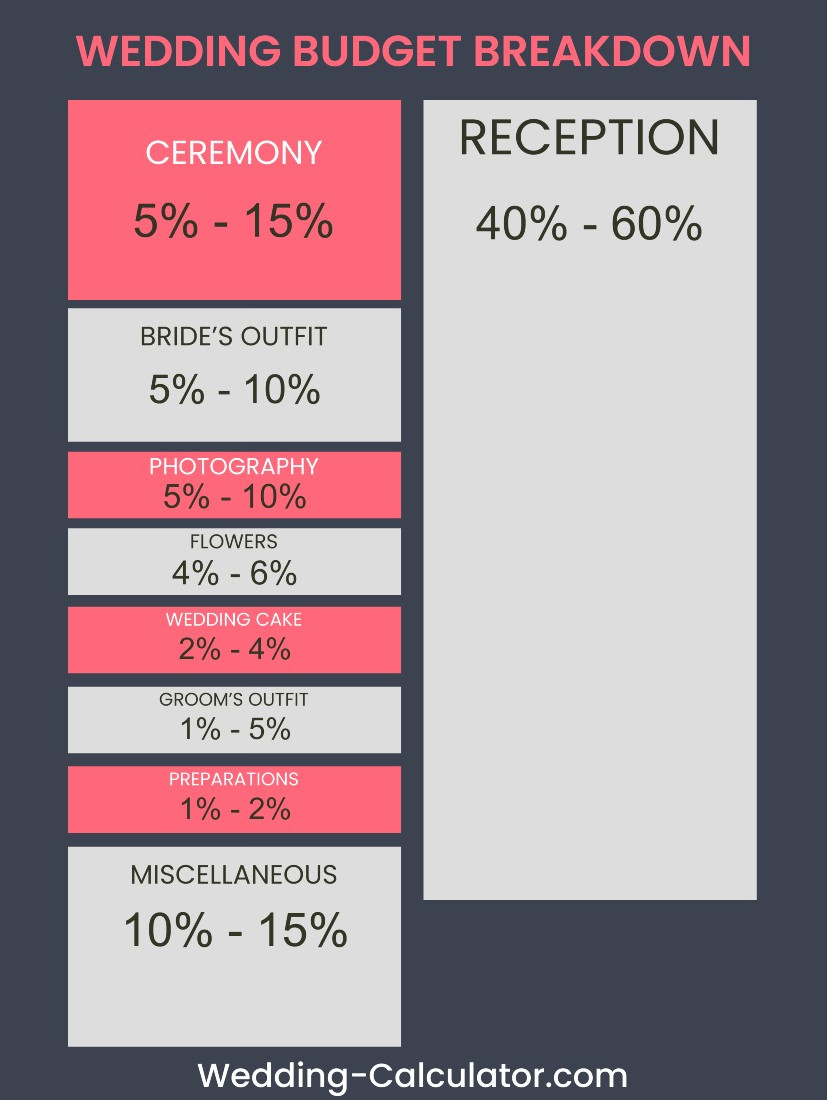 | | |
| --- | --- |
| 1 - The wedding outfit for the bride | 5% - 10% |
| 2 - The wedding outfit for the groom | 1% - 5% |
| 3 - The wedding ceremony | 5% - 15% |
| 4 - The wedding reception | 40% - 60% |
| 5 - The wedding cake | 2% - 4% |
| 6 - Wedding preparation costs | 1% - 2% |
| 7 - Flowers for the wedding day | 4% - 6% |
| 8 - Wedding photography | 5% - 10% |
| 9 - Miscellaneous | 10% - 15% |
Table with a breakdown of wedding budgets in percentages
Looking for a thorough rundown of all the most common expenditures?
We've put up a comprehensive checklist for a wedding budget breakdown. Creating a wedding budget has two primary goals.
The first is to assist you in gaining a deeper understanding of the various expenditures associated with your wedding and helping you in making informed decisions.
The second purpose is to allow you to maintain track and manage your spending as the big day approaches.
Here are more wedding budget examples with spreadsheet downloads
£20,000 wedding in Liverpool
This couple invited 150 guests for the church ceremony and reception, and 85 guest for the dinner and evening party. They had two wedding venues. A church for the wedding ceremony and the reception. They rented a hall at the university campus for a buffet and party. De dance party went on beyond midnight.

Click here to go to this £20,000 wedding budget
£30,000 wedding in London
This couple invited 135 guests. After the wedding ceremony in a church, there was reception in a luxury hotel. The reception started with appetizers and the cake cutting ceremony, followed by wedding breakfast diner and a party with a wedding DJ and a live cover band.

Make a list of what you find important for your wedding budget
As you can see in the examples above, there are many different things you can spend your money on, and everything can cost a wide range of money. For example, your wedding food catering can be a simple buffet, a very elaborate 7-course dinner, or you can choose to not organize food catering at all.

The choices you make are very personal. Maybe you don't care a lot about an expensive wedding dress, but you do want a cool dance party after you get married. Or maybe you care a lot about the food at your reception, and less for a cocktail hour.
When you need to choose what to spend your money on, you can make a list with the following categories:
1 - What do you find so important that you don't want to be on a budget?
2 -What do you find important, but not important enough to pay whatever?
3 - What would you find nice to have?
4 - What would you doubt about?
5 - What do you think unimportant, and isn't worth your money?
This list can help you to also determine how much money you would want to spend on each category.
Look at our great wedding calculators
WEDDING BUDGET CALCULATOR
Do you need help on how much money to plan for you wedding? This Budget Calculator will estimate the costs. You can also download a customized spreadsheet for your wedding budget for free.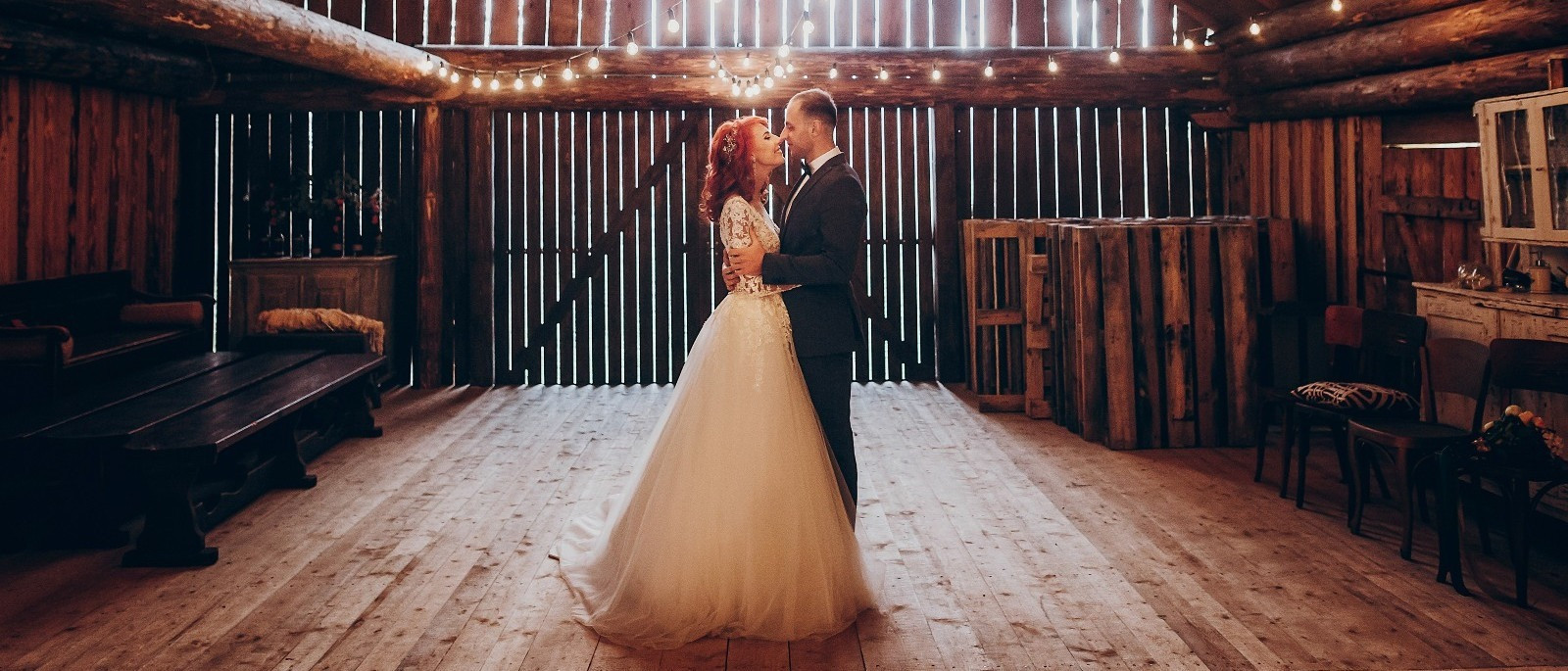 PARTY DRINKS CALCULATOR
Do you want to know how many alcoholic and non-alcoholic drinks you need for your party? Use this Party Drinks Calculator to get an estimate fast and easy.