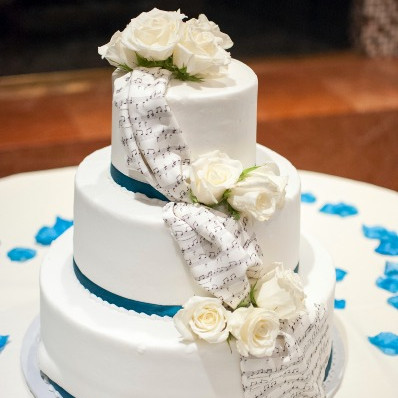 ---
What is the best wedding cake size for 50 guests and its average price in the UK?
A popular saying is that less is more. If you opt for a smaller wedding with 50 guests, you will read in this article what the best showstopper wedding cake size is for you. Using our
wedding cake calculator
, we were able to review cakes of all various sizes and found the best options for your guest counts.
We've created an entire guide on everything you need to know when choosing a wedding cake fit for 50 guests. You will also find some average wedding cake prices below.

Best wedding cake size for 50 guests
When choosing the best wedding cake size for 50 guests, we suggest a 3 tier wedding cake that has the following measurements:
| | | | |
| --- | --- | --- | --- |
| Tier | Height | Diameter | Servings |
| 1 | 6″ | 4″ | 6 |
| 2 | 6″ | 6″ | 14 |
| 3 | 6″ | 10″ | 36 |
In total 56 servings.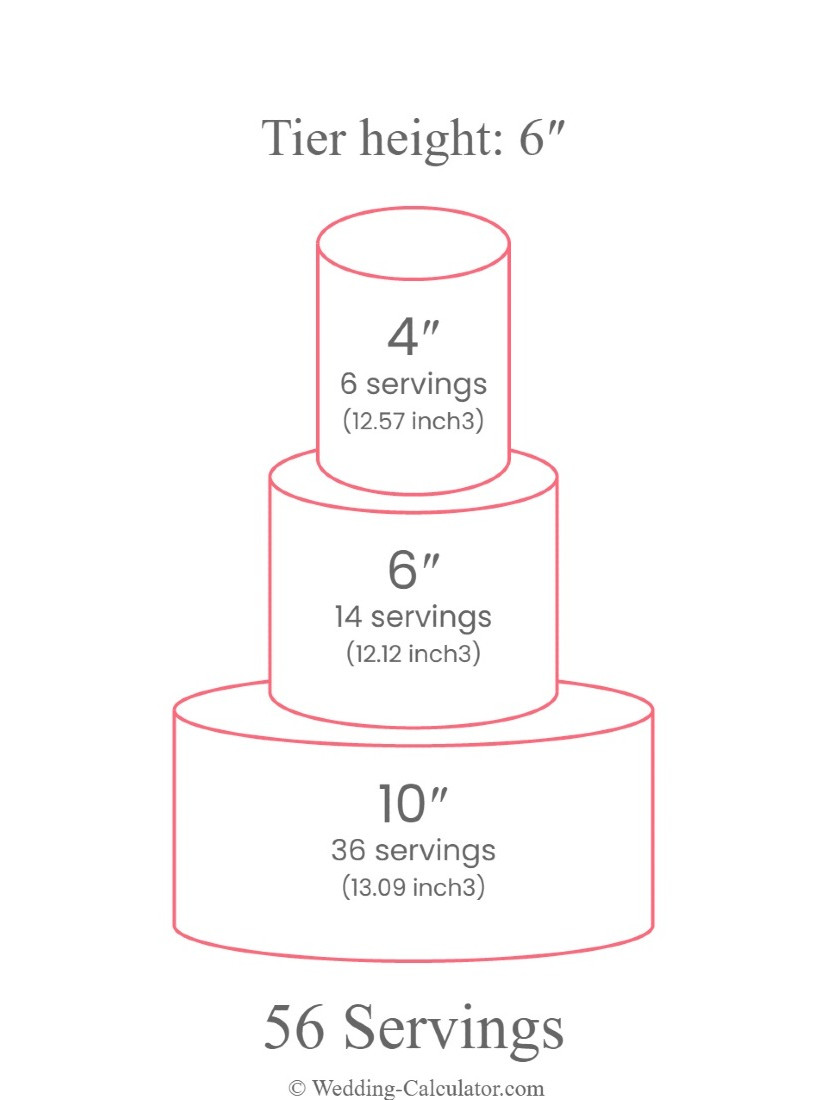 Average price of this wedding cake size for 50 guests
The average price of such a cake will be between £300 - £350 for the UK in 2022. Metropolitan areas such as New York or Los Angeles usually are more expensive, the price might be up to 25% higher than the average price.
Keep in mind that a wedding cake is not a standard product and its appearance and taste largely depends on the craftsmanship of the baker. The cost also reflects the ingredients used and the way the cake is decorated. Therefore actual prices can differ from the average prices shown here.

Why do we suggest this wedding cake size?
This is a great choice because it features a number of benefits including:
1 - Perfect presentation
Presentation is very important in your wedding. A taller cake like this one with 3 tiers looks more impressive than other smaller cakes with a bigger radius. Being tall draws more attention to a cake, making it a focal point, even if the reception is a little crowded.
The presentation can be made more impressive by adding decorations such as a small lovely wedding couple at the top of the tall cake, food-grade fireworks, satin ribbons and silk or edible flowers.
2 - Easy to save the top tier for your anniversary
Your first anniversary is special and you'll want to remember the beautiful moments you shared during your wedding. It's a common tradition for newly wedded couples to remove the top tier and place it in the freezer for a year.
You may want to do the same for your own first special day. The 4" top tier is our recommended cake size for saving as it's perfect for boxing and freezing without taking up too much space.
Even without the top tier, you will still having enough servings remaining for 50 guests. Not all guests will want the cake and for small children, half portions can be served.
Alternative wedding cake sizes for 50 guests
Not all bakers offer all sizes. However, there are alternatives that you can select that will still be able to fit your needs. Using our wedding cake calculator, we were able to determine the best wedding cake alternative options for you to choose from.
Best Alternative #1 - 2 tier wedding cake, each tier is 6″ high
This is a great alternative that has the following measurements:
| | | | |
| --- | --- | --- | --- |
| Tier | Height | Diameter | Servings |
| 1 | 6″ | 6″ | 14 |
| 2 | 6″ | 10″ | 36 |
In total 50 servings
If your budget for a wedding cake is limited, this wedding cake is a smart choice. Where a single tier cake may be less expensive, this two tier cake looks more like a real wedding cake. Single tier cakes may be more associated with birthdays.
The average cost for this cake is £250 - £300, approximately £5.00 - £6.00 per person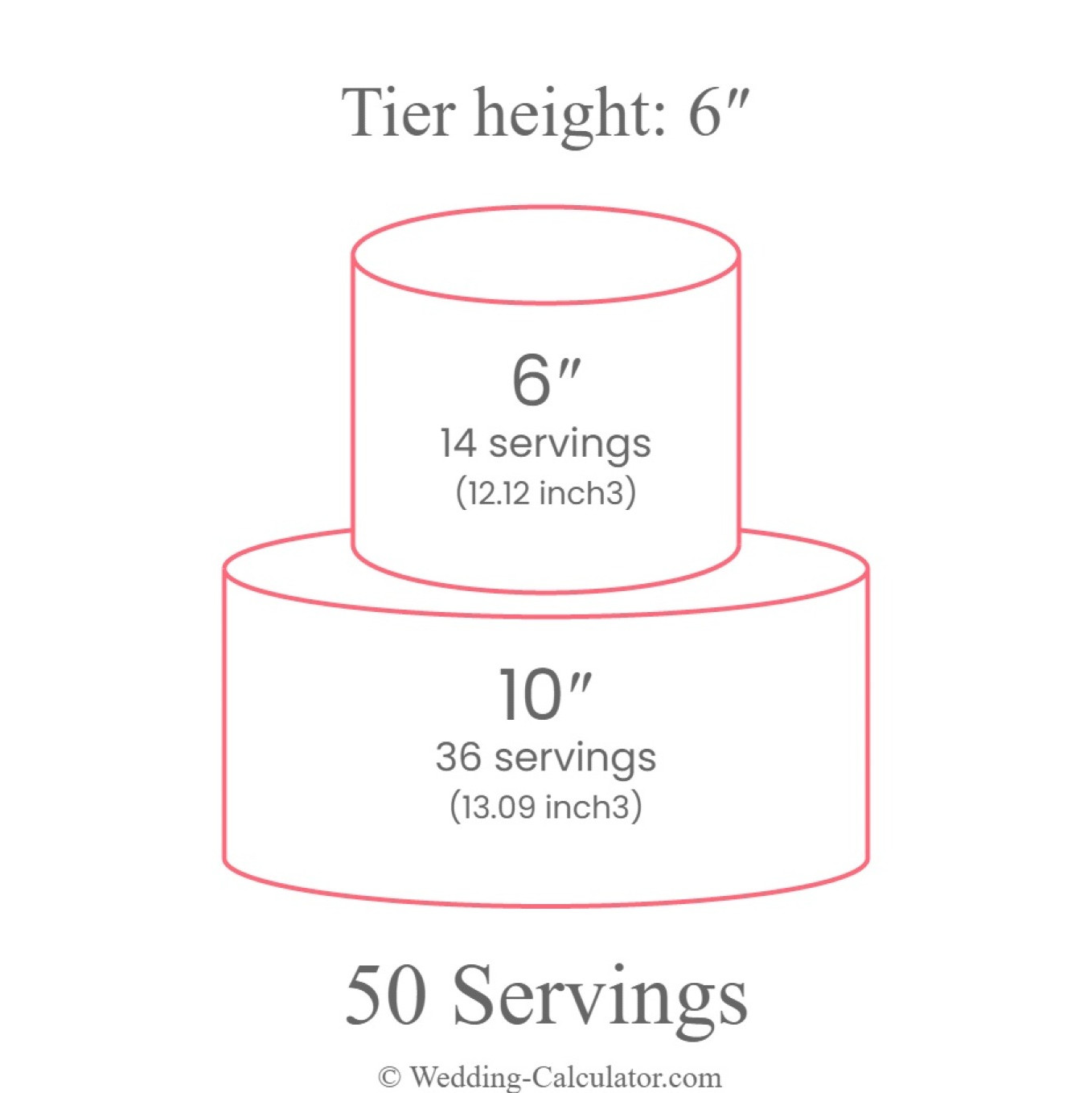 Best Alternative #2 - 3 tier wedding cake, each tier is 4″ high
This is another great alternative that has the following measurements:
| | | | |
| --- | --- | --- | --- |
| Tier | Height | Diameter | Servings |
| 1 | 4″ | 4″ | 4 |
| 2 | 4″ | 6″ | 10 |
| 3 | 4″ | 12″ | 36 |
In total 50 servings
If you have a dessert table, you will most likely need less than 50 servings as not everyone will have cake. In that case, You can easily remove the top 4″ tier and place it in the freezer for your first wedding anniversary

The average cost for this cake is £300 - £350, approximately £6.00 - £7.00 per person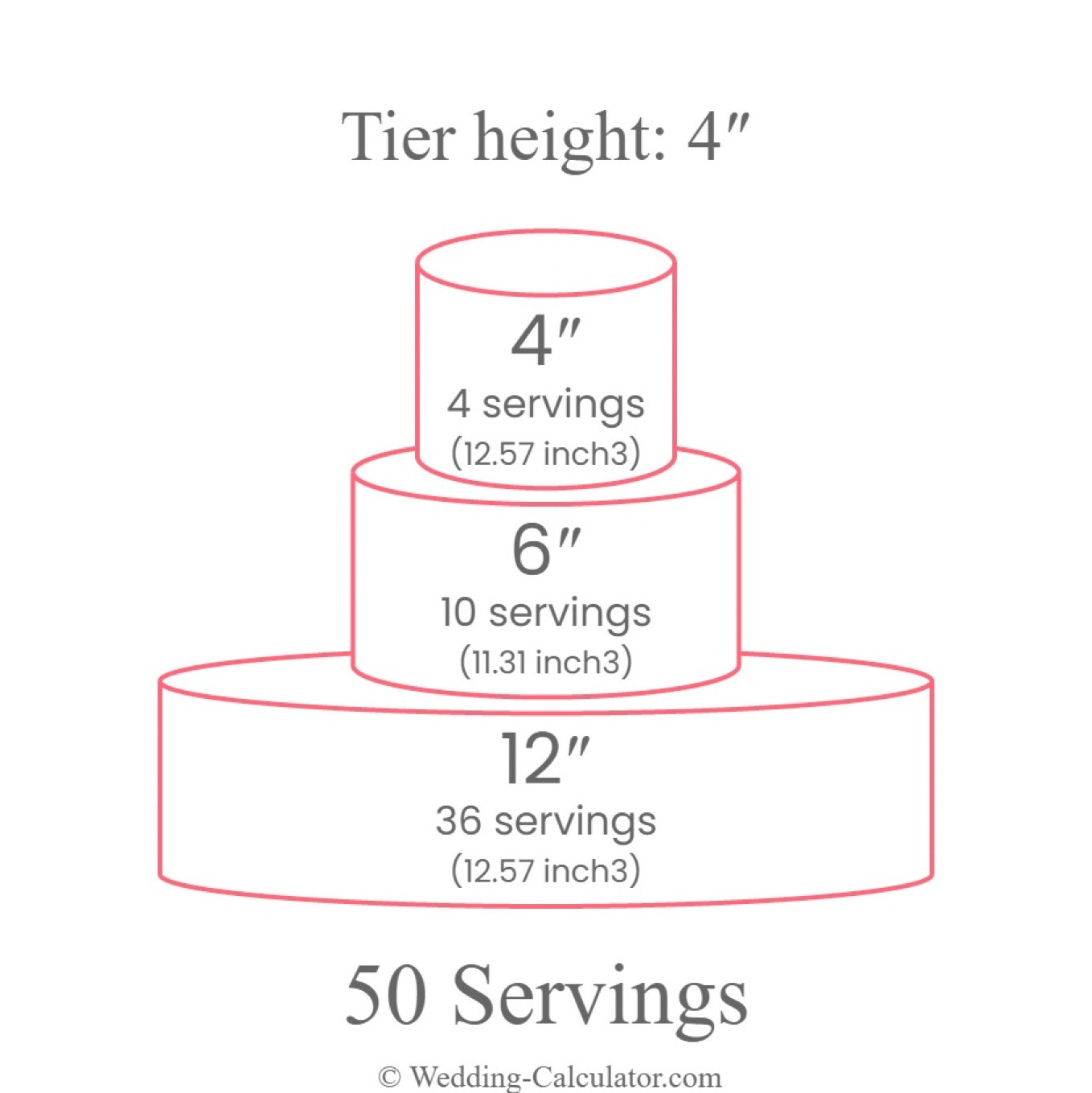 Do you need 50 cake servings for 50 guests?
The typical rule is to ensure that your cake provides at least one serving per guest. This is for sure true when the cake is served to each guest individually by the waiters. If you're just under 50 servings, it's fine to serve half portions to small children.
However, if you have a dessert table where the guests have to get their own piece of the wedding cake, you usually need less than 50 servings. Not all guest will have cake. Many wedding planners recommend that in such a case, you only cater to about 80-90% of your guests. For 50 guests, you will be needing 40-45 servings from your wedding cake.
Want to see more wedding cakes? Use the Wedding Cake Calculator
Enter the number of guests and the Wedding Cake Calculator will show you the wedding cakes found along with the average cost. You'll also get more information, such as handy infographics with wedding cake servings charts.
We also explain what the wedding cake costs depends on and what you should pay attention to when ordering.
Other wedding cake sizes
The current page contains a full guide for 50 guests. We also have a full guide for these guest count:
How do you pick the perfect wedding cake for 50 guests?
All types of wedding cake include different flavors, sizes, and colors too. When deciding on the cake that will be perfect for your wedding guests, it can be a little overwhelming. However, to help make things easier for you, we have listed some important factors you may want to consider.
1 - Get the cake with the best presentation
As we mentioned earlier, presentation is very important when considering your wedding cake. You need a presentation that will leave all your guests impressed. When it comes to a wedding cake for 50 guests, the size and placement of the cake are important factors. You can get the help of professional wedding coordinators and bakers. Nonetheless you should consider the decoration too. Here are some ideas:

Flowers
When choosing flowers to decorate your wedding cake, it might be wise to use artificial flowers. Silk flowers will also save you some money. You can also use real flowers if you want them to match your other wedding florals but keep in mind, it's often a lot of work. Sugar flowers are also a great option if you want something that's custom and food safe.
Fireworks
You can go for some sparkler candles and add them to your wedding cake. It makes the cake attract much attention. Ensure you choose food-grade ones in order to have a safe experience.
Ribbons
The satin ribbon on the wedding cake adds a good touch to the decoration. Choose a color that matches your theme.
A wedding couple on top of the cake
A cake topper is another type of decoration that has been used for a lot of years. It might make your wedding cake look more presentable. Using 3d scanning and printing, It can be custom-made to look more like you and your future spouse.
The wedding cake table
It's important for the wedding cake to look good, but don't forget about the surrounding elements on the table. For example, the tablecloth and the cake stand also have a large effect on what the whole picture looks like. Other things you can decorate with include: flowers, ribbons, candles, champagne, glasses, plates, plants, and cutlery.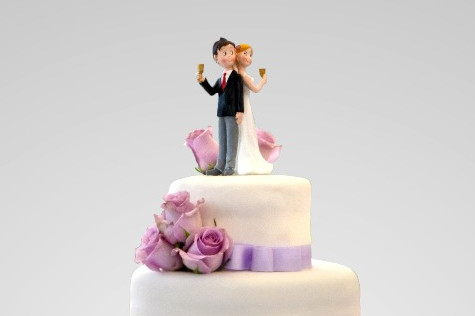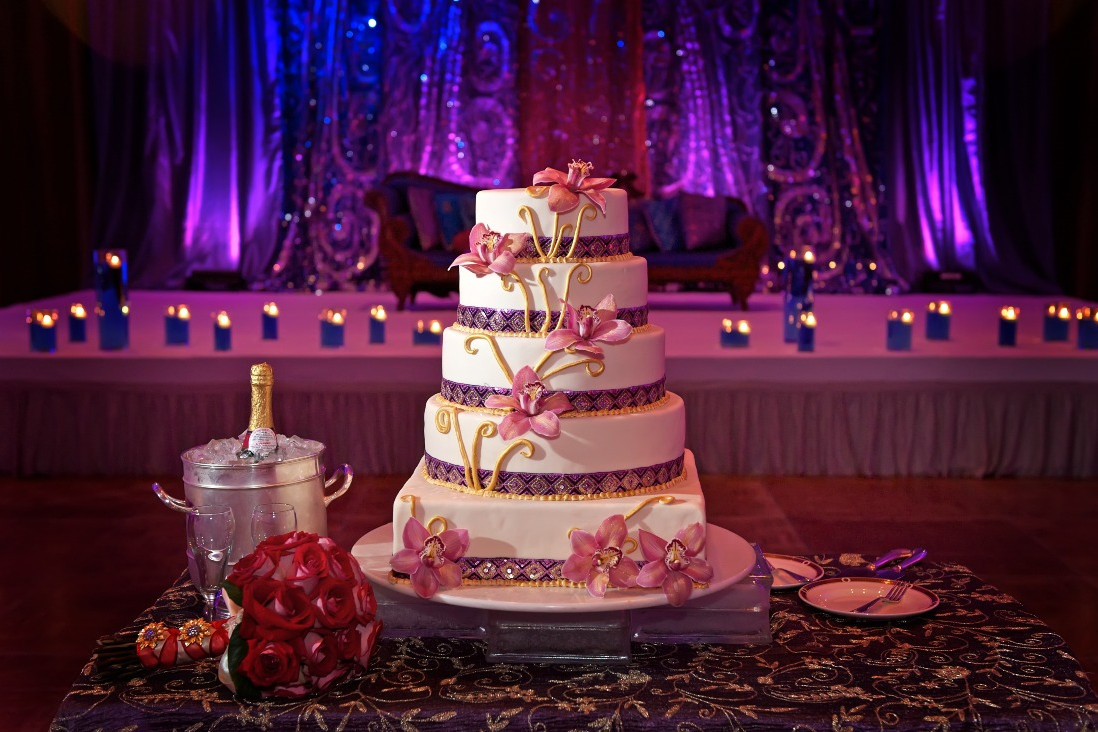 2 - Pick the right taste choices for your 50 guests
There are a variety of tastes when it comes to wedding cakes. You should get the best flavor for your 50 guests to fully enjoy. The most important thing that determines taste is the filling and the topping. The list of amazing flavors is endless. There are both traditional such as vanilla and more exotic options like salted caramel, tuxedo torte, or chocolate raspberry truffle. You get to choose whichever one you want.
How do you as a couple cut the wedding cake for 50 guests?
The cake cutting is seen by many as the best part of the reception. You should consider when and how you'll be cutting the wedding cake. For a 4 tier wedding cake, it's usually customary for the married couple to cut the first piece from the bottom tier. Follow these steps when cutting your wedding cake for 50 guests:
Before cutting the cake, you should ensure there's a plate and two forks ready.
The guests will usually be seated and the married couple will be called in front and pose with the cake for photos. Family and friends can also take photos at this time.
Usually the bride picks up the knife and the groom puts his hand over the bride's hand. The traditional positioning of the wife is standing to the right of the groom, but either way is fine.
The newly married couple will cut the cake, and more photos are taken.
While the bride and groom take the first bite. There are a couple of different ways this is normally done:
Simultaneously - get a bite on the fork and feed each other.
After each other - the groom feeds the bride a piece and vice versa.
For some cultures - parents have to cut the first piece of cake and give it to the couple.
You could end the ceremony with a kiss.
Trained staff members of your wedding venue usually cut the remaining slices for the guests. The cake can either be served by waiters, or guests can get a piece of cake themselves.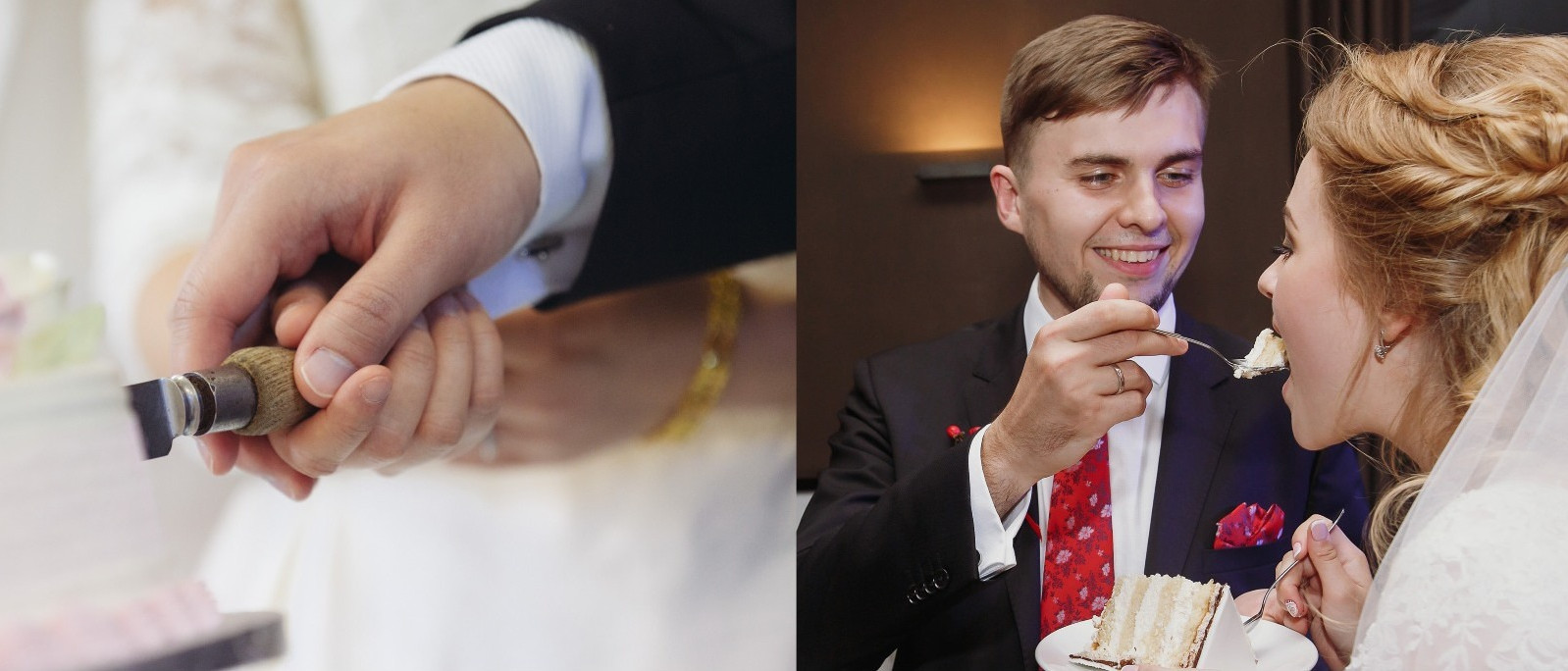 Here is an infographic for serving the Best Wedding Cake size for 50 guests
After your cake cutting ceremony is completed, the staff needs to cut the cake into the servings for the guests. The following images show the pattern that should be followed when cutting the recommended cake.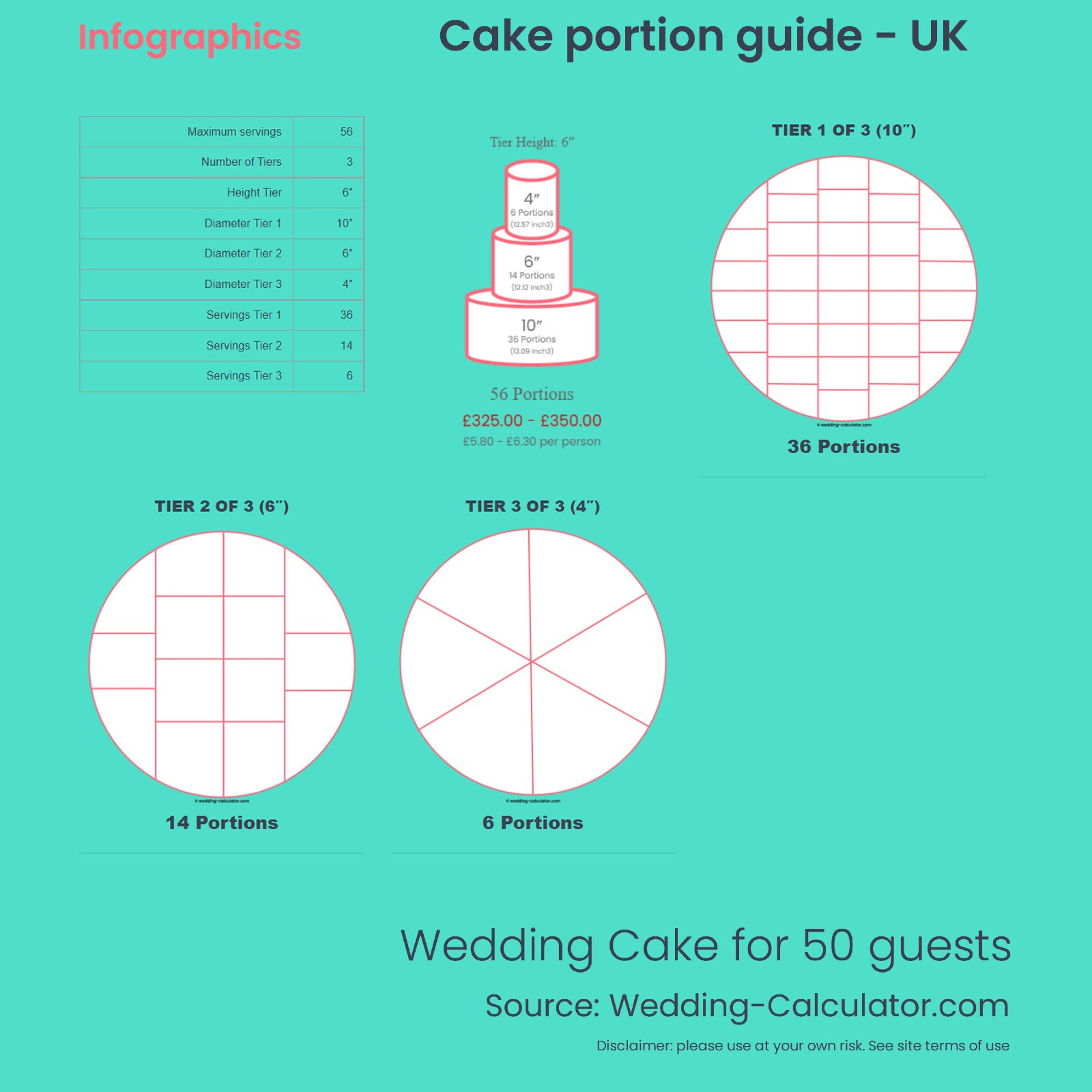 The servings chart for this wedding cake
Below are 3 high resolution charts showing how to cut each cake tier into portions. You can open a chart in a new browser tab, make a print out and use it as a template for cutting the cake.
Tier 3 (10″): 36 servings
Tier 2 (6″): 14 servings
Tier 1 (4″): 6 servings
In total 56 servings.
Disclaimer: please use at your own risk. See site terms of use


Final words
Your wedding day is a big day for you, everything should be perfect. The wedding cake is one of those things. The guide above will ensure you have the best wedding cake for 50 guests. Fore more help, check out the different tools on our website to make everything much easier.
Look at our other great tools
WEDDING BUDGET CALCULATOR
Do you need help on how much money to plan for you wedding? This Budget Calculator will estimate the costs. You can also download a customized spreadsheet for your wedding budget for free.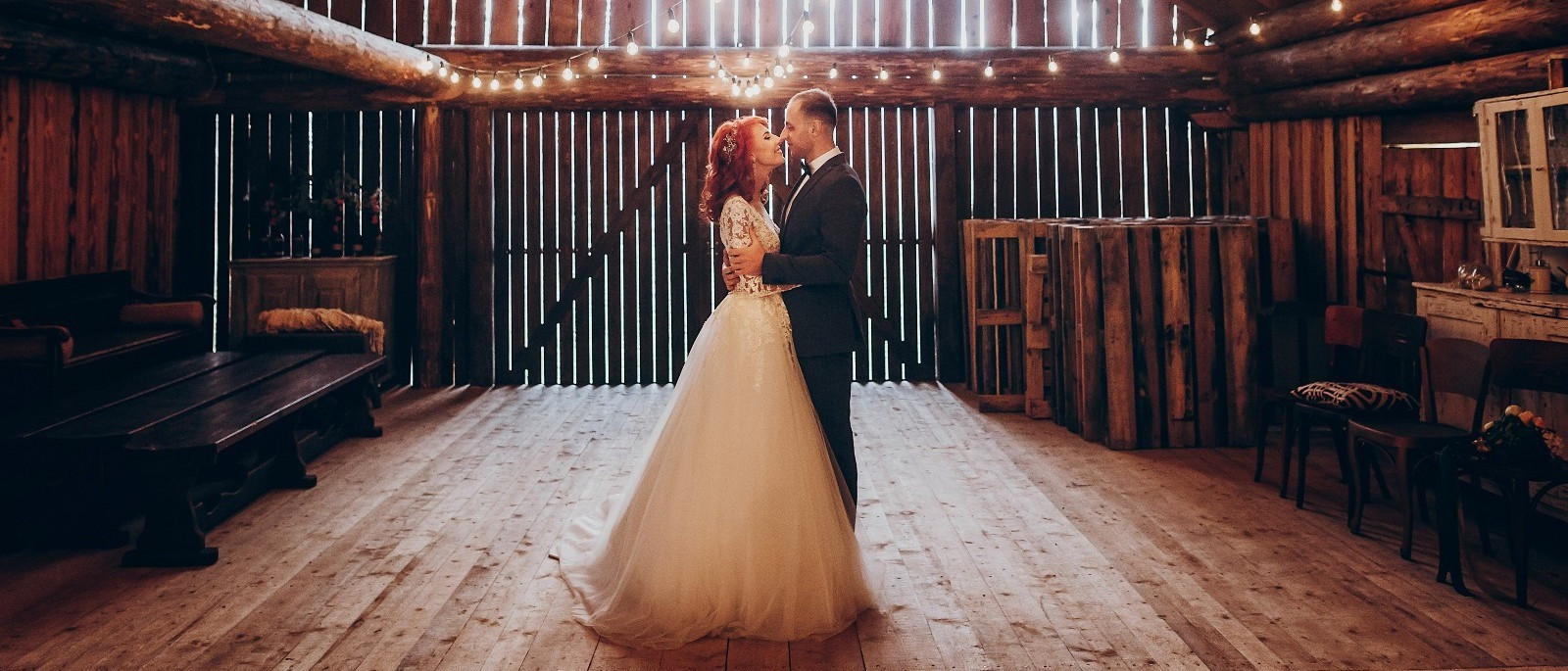 DRINKS CALCULATOR
Want to know how many drinks you need for your party? Use this Alcohol Calculator for Wedding or Party to find out how many soft drinks, beer, wine, cocktails and spirits you will need and what the estimated cost will be.