Price calculator for average cost of a wedding cake
Enter below the number of guests. This Wedding Cake Calculator searches for the matching wedding cakes. The results will show you sizes, servings charts and average prices of each cake found.
.
Wedding Cake Calculator for UK - 2021
preload font Poppins-Bold
preload font Poppins-Extrabold
HOW MANY PORTIONS?
For how many people is the wedding cake?
What are the costs for advice and quotation?
What are the costs per TIER of the cake?
What are the costs per cubic inch size?
What are the costs for any DECORATIONS
Enter here the costs for the decorations if they apply
What are the DELIVERY costs?
Enter here the delivery costs if they apply
---
Full guides for Wedding Cakes
We also have created full guides for Wedding Cakes for these guest count:
What does a wedding cake cost depend on?
1 - Your location
Are you living in highly populated metropolitan areas such as London or Manchester? Then you need to add at least 10% on top of the average price. On the other hand, in less densely populated regions prices will be lower.
2 - The baker
A wedding cake is not a standard product and its appearance and taste largely depends on the craftsmanship of the baker. It is therefore quite obvious that high end bakers charge more than the average prices. Other bakers may be less experienced or talented and will charge less and compete on the price.
3 - Advice and quotation
A professional baker will advise you on the best solution for your situation. He or she will also make one or more price quotations for you. In most cases, you do not see the costs for this work separately on the invoice, they are implicitly included in the total price of the cake.
4 - Ingredients
As you may have noticed in the price settings in the calculator at the top of this page, there is a price setting per cubical inch volume of the cake. This setting reflects the cost of the ingredients used. For example, a cake made with real dark chocolate with a high percentage of natural cacao will be more expensive than when a ready made chocolate mix is used.
5 - Frosting
Frosting is used to top off the cake. It covers the outside and largely affects what the cake looks like. Different types of frostings require unique ingredients, and some are easier to work with than others, which effects the price.
6 - Number of tiers
Each additional tier means more work for the baker and extra frosting or icing. Wedding cakes for the same number of guests can differ in price because they differ in the number of tiers.
7 - Height of each tier
A typical height for tiers in a wedding cake is 6 inch, although each tier can range from 3 to 8 inches. If you want to spend less, you can opt for a smaller tier height, and if you prefer a more impressive big wedding cake, choose a larger tier height.
8 - Decorations and toppings
Last but not least, the wedding cake can be decorated with both edible and inedible toppings. Some examples are small buttercream flowers, wedding couple at the top and ribbons around the cake.
How do you order a wedding cake, and what should you pay attention to?
You can buy a wedding cake in different ways. Most couples go to a bakery and order one there. Usually, the baker starts with an introductory meeting in which he or she tries to get a feel for your wishes and ideas. Also, the baker will show you some examples (pictures), and explain all your options.
Before you make a final choice, the baker will offer small samples for you to taste. The baker may even bake a small version of the cake you are considering buying just for you.
Most bakers will ask you to pay a small amount for these samples, especially if they aren't sure you will actually go on and order one of their cakes. The taste samples usually costs around $25. Custom samples specially prepared for you can be more expensive.
If you have already decided you will order a cake from a specific baker, and you just haven't decided what cake, you might be able to negotiate with your baker to get some free samples. In that case, the baker may ask to pay a deposit before making the taste samples for you.
Once you've decided what cake you want to order, there are some things you should pay attention to:
Delivery time
It always takes some time before the wedding cake is ready for delivery. However, the specific delivery time can vary a lot, ranging from a few weeks to a few months. If you order for delivery outside of the wedding season (June - September), the delivery time tends to be shorter. However, In the wedding season (Juni - September) popular bakers can have very long delivery times, ranging from at least six weeks to six months or more.
In case your order is very special, requiring the ordering of special materials or tools to prepare, this will take time, and can prolong your delivery time with three to six weeks.
So start with ordering on time so you can be sure that you can find a baker who not only delivers on time for your wedding, but can also fulfill all your wishes.
Deposit
Most bakeries will ask you for a deposit of 25 - 50 %. The rest of the amount will have to be paid two to three weeks before the wedding. This way, the baker can be sure that he or she won't spend money on your cake that they won't be paid for.
Of course, this does mean a risk for you. If something happens and the wedding is cancelled, you usually won't get your deposit back. This is usually described in the small print in the quotation or in the terms of delivery.
It is advisable to discuss with your baker beforehand what happens if your wedding has to be cancelled or postponed. For example, while you might not get your deposit back if you cancel your wedding, you might be able to re-use your deposit for a new order within one year.
If you are worried about this, you could consider getting a wedding insurance. This insurance covers your deposit, but also any other costs you have to make, in case of unforeseen situations forcing you to cancel or postpone the wedding.
Ordering the wedding cake online
If your budget is limited, or if you need a(n extra) wedding cake on short notice, you could also order online from a webshop specialized in cakes.
Of course, you won't have as much of a say on the final product as when you order a cake from a baker. However, you might still have the option to order small taste samples beforehand for a small payment.
It can be difficult to determine the quality and reliability of an online bakery. Firstly, you could check the reviews of your webshop online. Additionally, you could call them and ask a couple of questions.
You can ask how many orders they get every month and what happens if something goes wrong with your order. Are they insured and will you be compensated for the damage?
While ordering a wedding cake online, say five years ago, felt a bit strange, nowadays it is becoming more common. If an online bakery is right for your situation, this may be a great solution for you.
Table with the average cost of a wedding cake in the UK in 2022
We have composed a table with average prices of popular servings (please note, price of naked wedding cakes are 10%-25% lower).
| | | |
| --- | --- | --- |
| Portions | Tiers | Price |
| 50 | 2 (10″ and 6″) | £275 - £300 |
| 75 | 3 (10″, 8″ and 6″) | £375 - £400 |
| 100 | 3 (12″, 9″ and 6″) | £400 - £425 |
| 140 | 5 (12″, 10″, 8″, 6″ and 4″) | £550 - £600 |
| 200 | 5 (14″, 12″, 10″, 8″ and 6″) | £700 - £750 |
| 275 | 4 (16″, 14″, 12″ and 10″) | £750 - £800 |
| 300 | 6 (16″, 14″, 12″, 10″, 8″ and 6″) | £950 - £1,000 |
The aim of this table is to give you an indication of common prices. However, the exact number can vary quite a bit depending on a number of factors, described in the next section.
Examples of popular wedding cake serving charts
This section provides an overview of different types of serving charts that are often printed or downloaded by users on this site.
1 - Servings chart for 50 guests
In principle, for 52 portions, a single tier cake would be sufficient. Such a cake would, for example, have a height of 6 inch and a diameter of 12 inch. However, usually two tiers are preferred, mostly because of the presentation advantage. By choosing for two tiers, the cake looks more like a real wedding cake and less like, for example, a birthday cake.
Here is a popular wedding cake servings chart. We have also provided the cutting charts.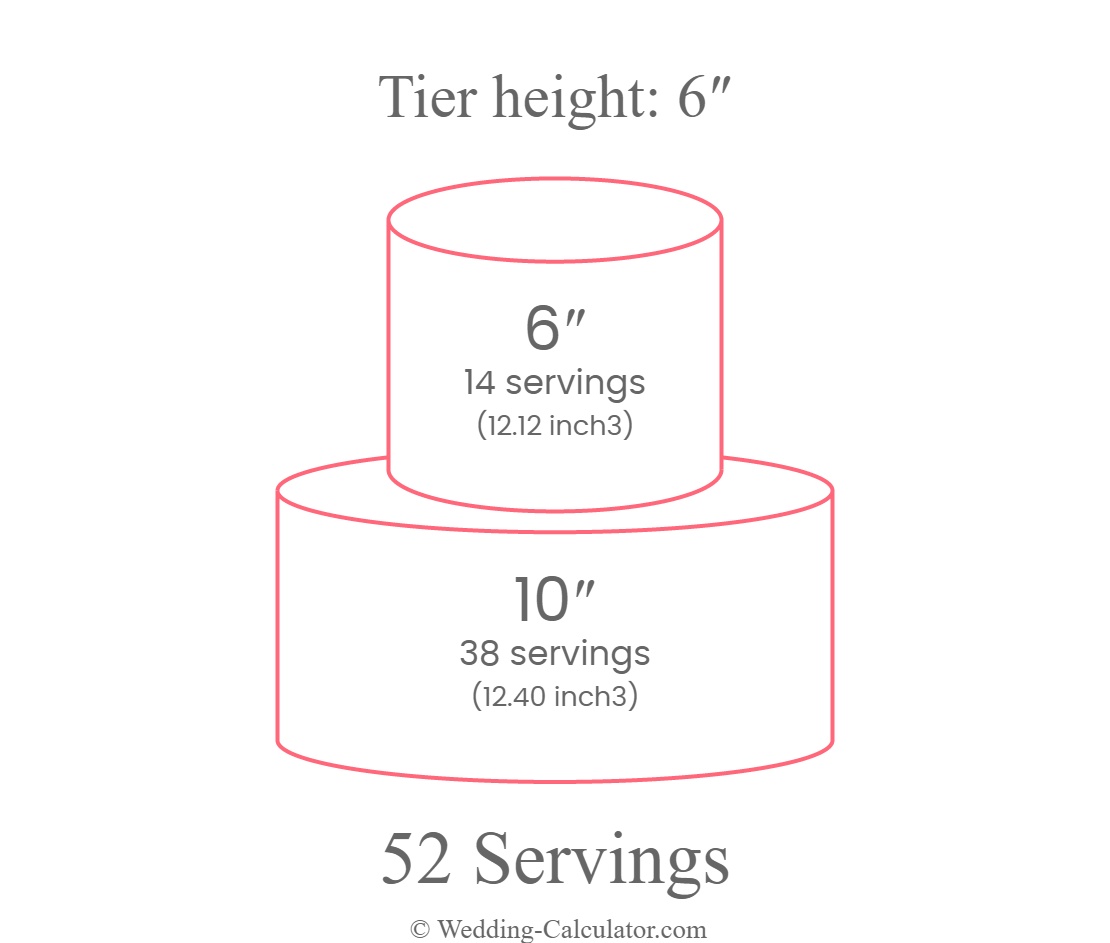 TIER 1 OF 2
Height: 6″ - Diameter: 10″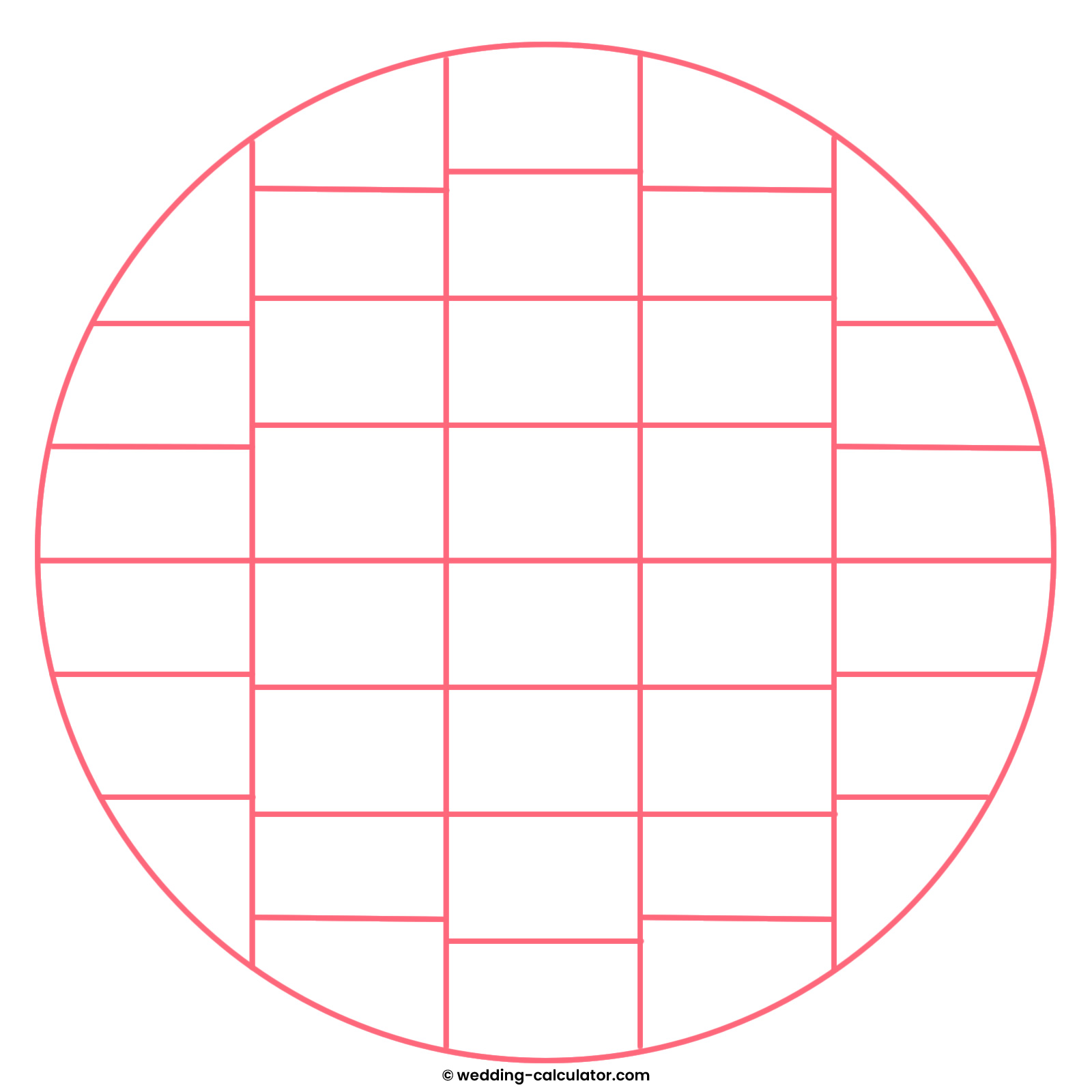 36 Portions
TIER 2 OF 2
Height: 6″ - Diameter: 6″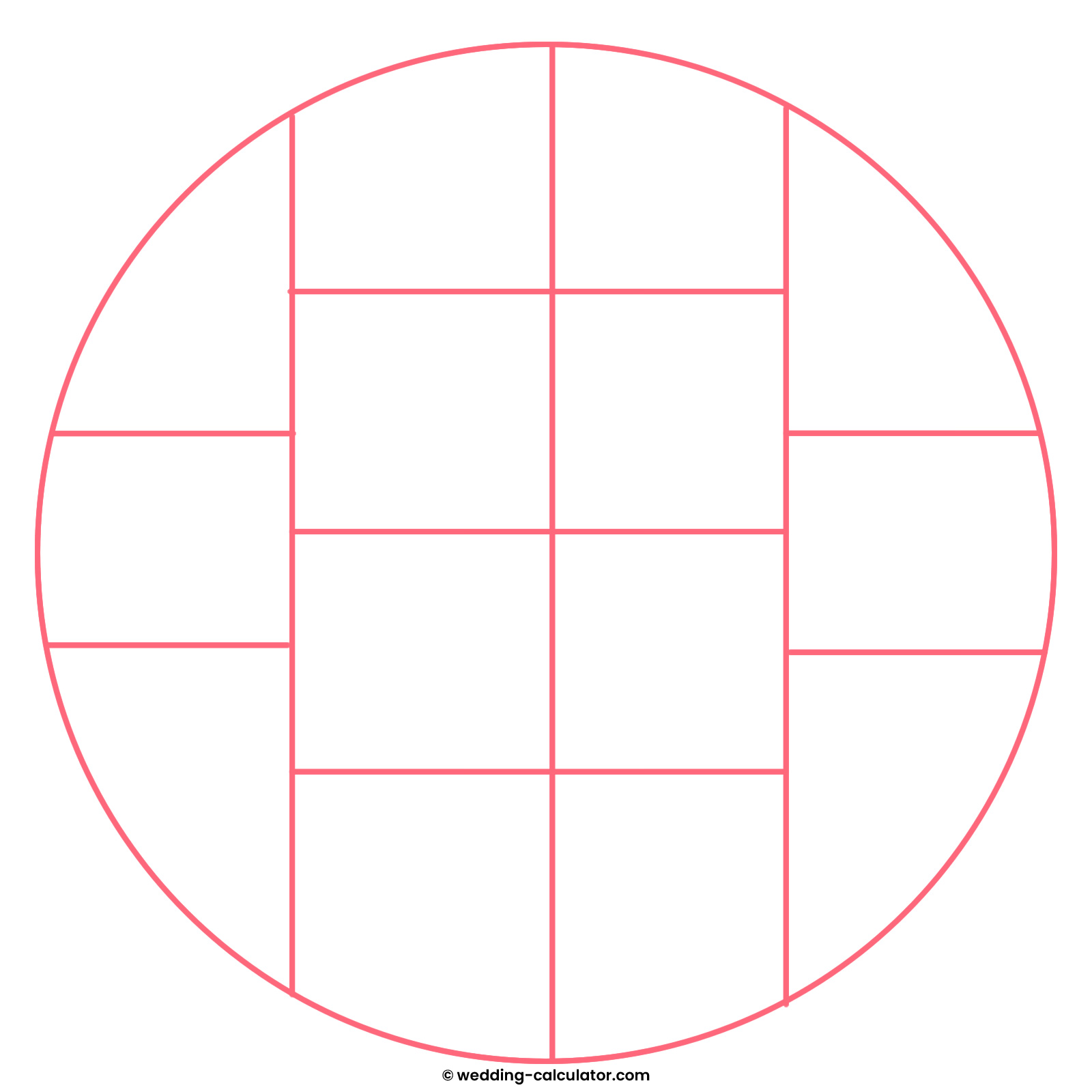 14 Portions
Cutting the cake is one of the most prominent wedding traditions. Following this tradition, the bridal couple always cuts a first piece from the lowest tier. This cake has enough space between the first and second tiers to do this hassle-free.
2 - Servings chart for 100 guests
In the UK, it is estimated that about 10% of people have a food allergy. Most common food allergies are cow milk, eggs, tree nuts and peanuts. When inviting 100 persons, one can expect at least 10 people with food allergies.
In the example below, the top tier could be specially prepared for guests with such food allergies. Just make sure that there is a separation plate between the top tier and the second tier and that different knives are used to cut the different layers. So that no unwanted food traces are transferred to the top tier.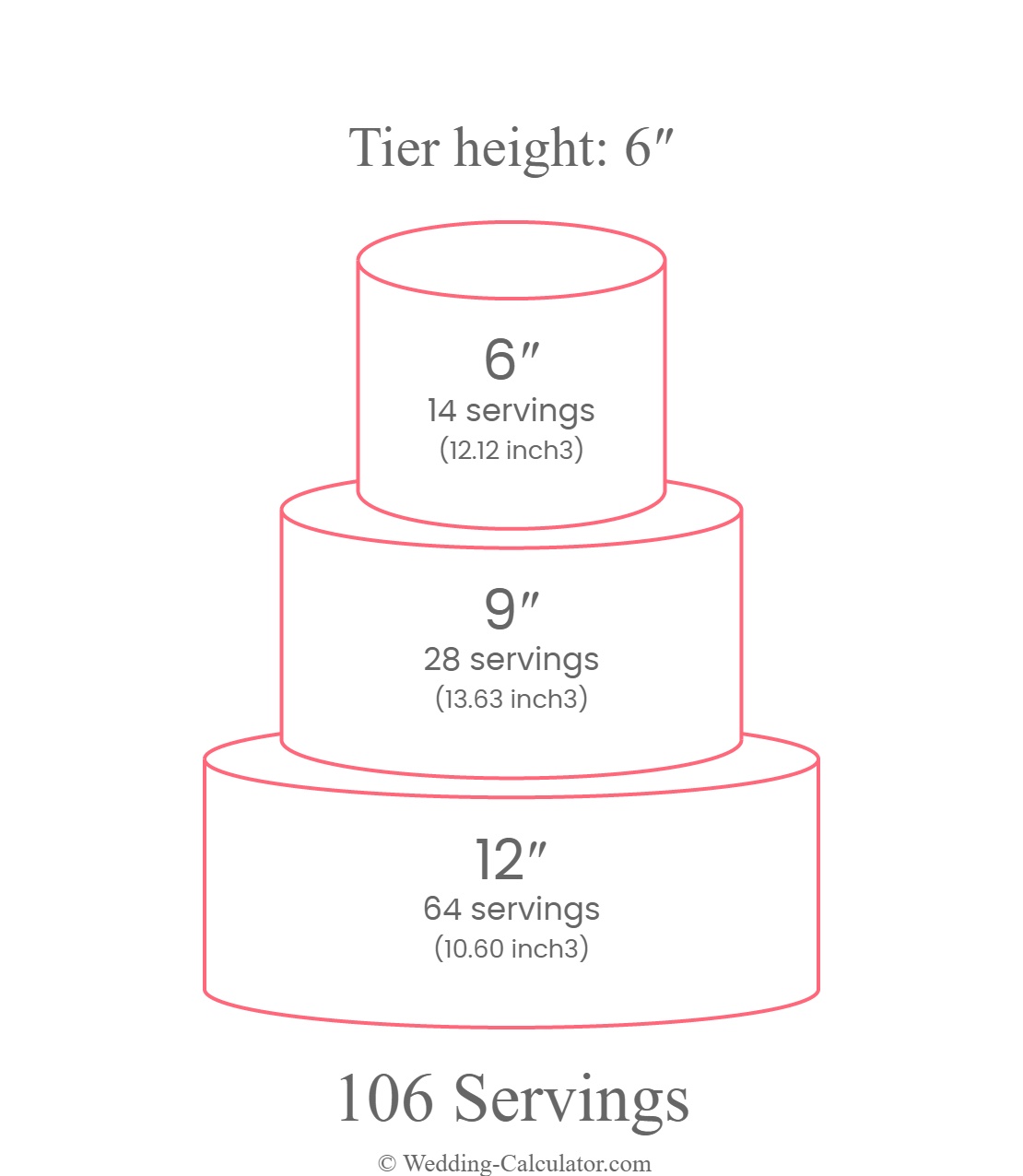 TIER 1 OF 3
Height: 6″ - Diameter: 12″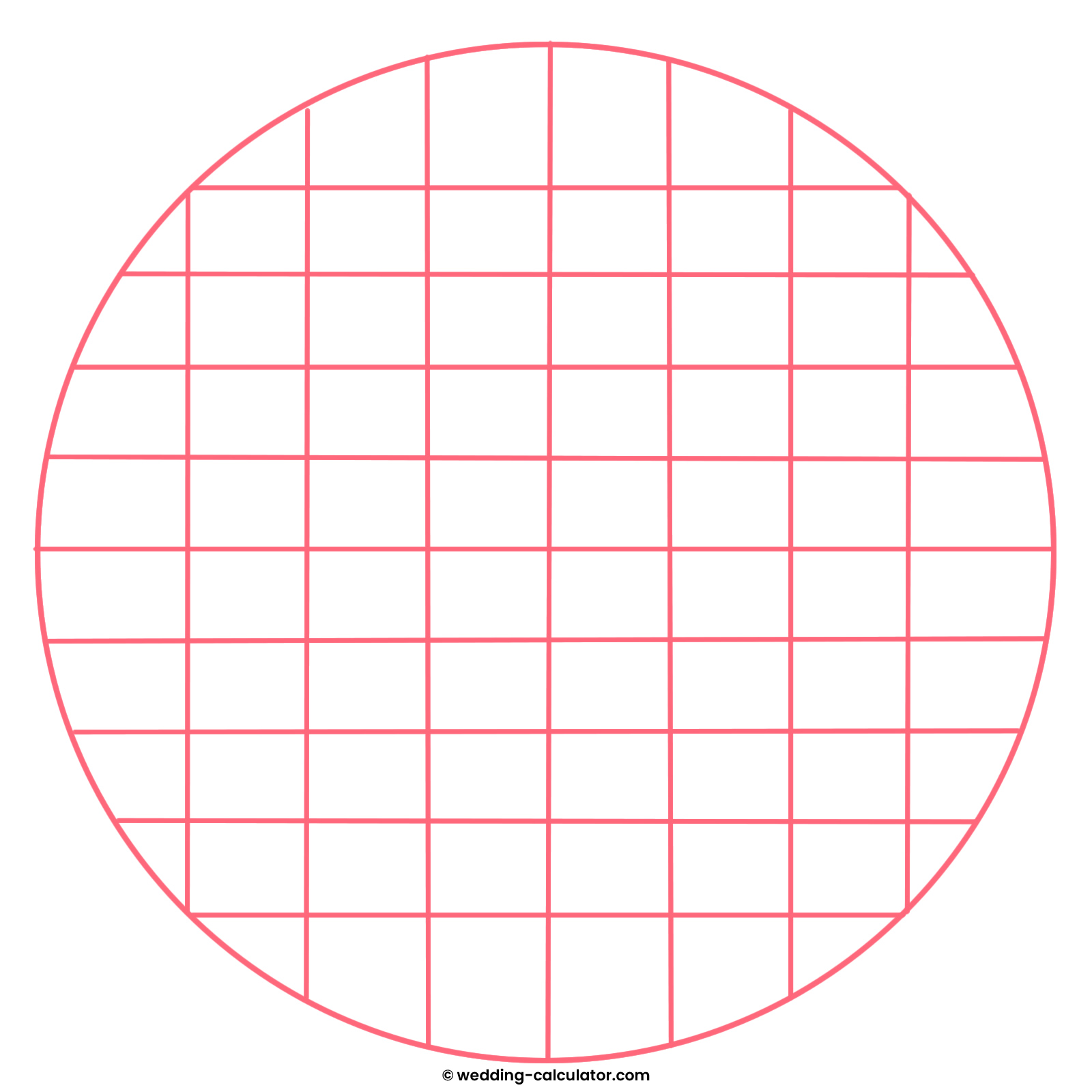 64 Portions
TIER 2 OF 3
Height: 6″ - Diameter: 9″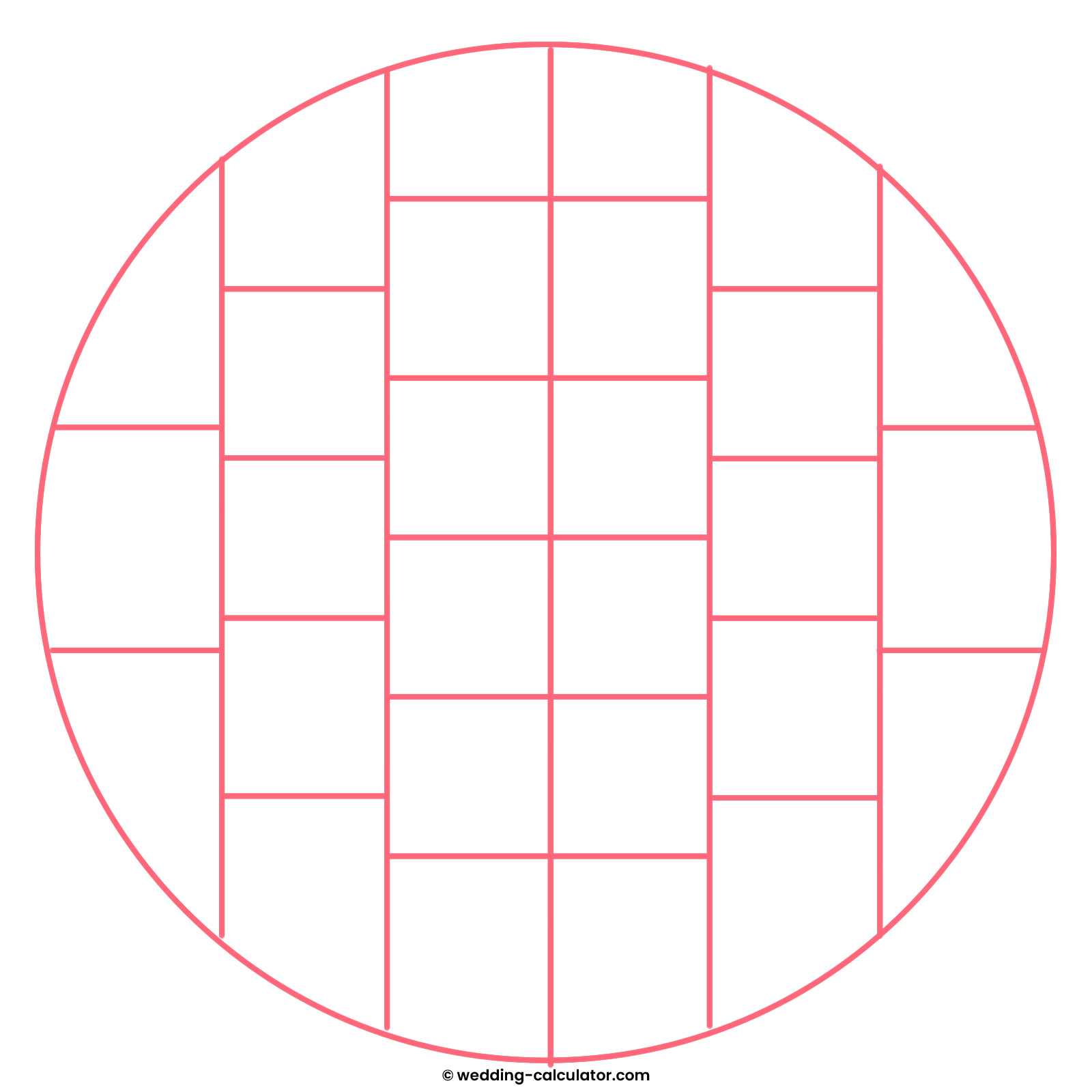 28 Portions
TIER 3 OF 3
Height: 6″ - Diameter: 6″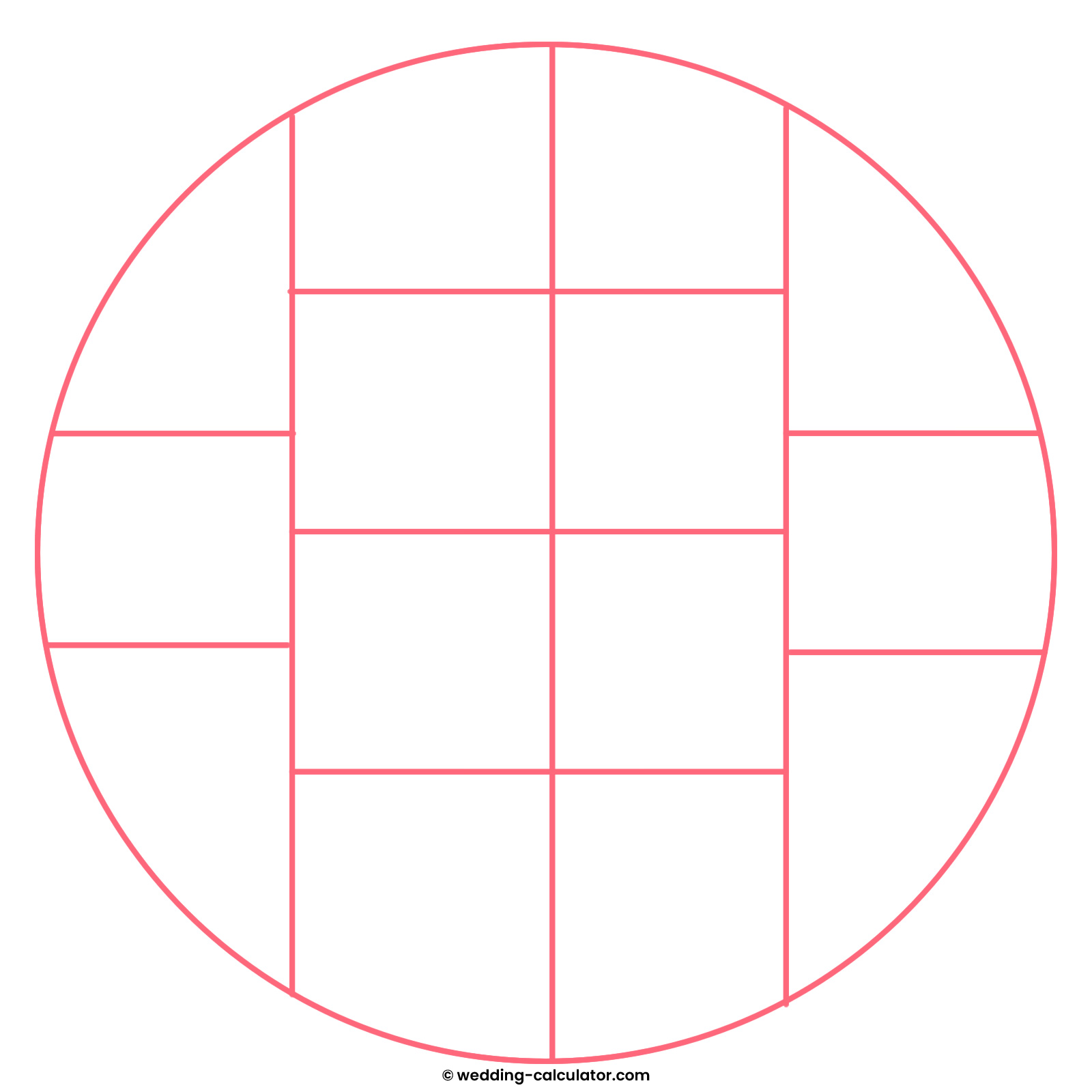 14 Portions
Another solution would be to order a separate single tier cake, specially prepared for these guests with food allergies.
3 - Servings chart for 175 guests
A romantic way to look back at the wedding day, is to take off the top tier of the wedding cake and save it in the freezer for a year. At the first wedding anniversary, the married couple can enjoy this piece of the wedding cake while, for example, looking back at the wonderful wedding pictures.
Here is an example of a serving chart for 175 guests with a top tier that can be easily preserved while still having enough portions left for all the guest. The top tier has 6 portions, allowing the married couple to invite four people for a first year ceremony.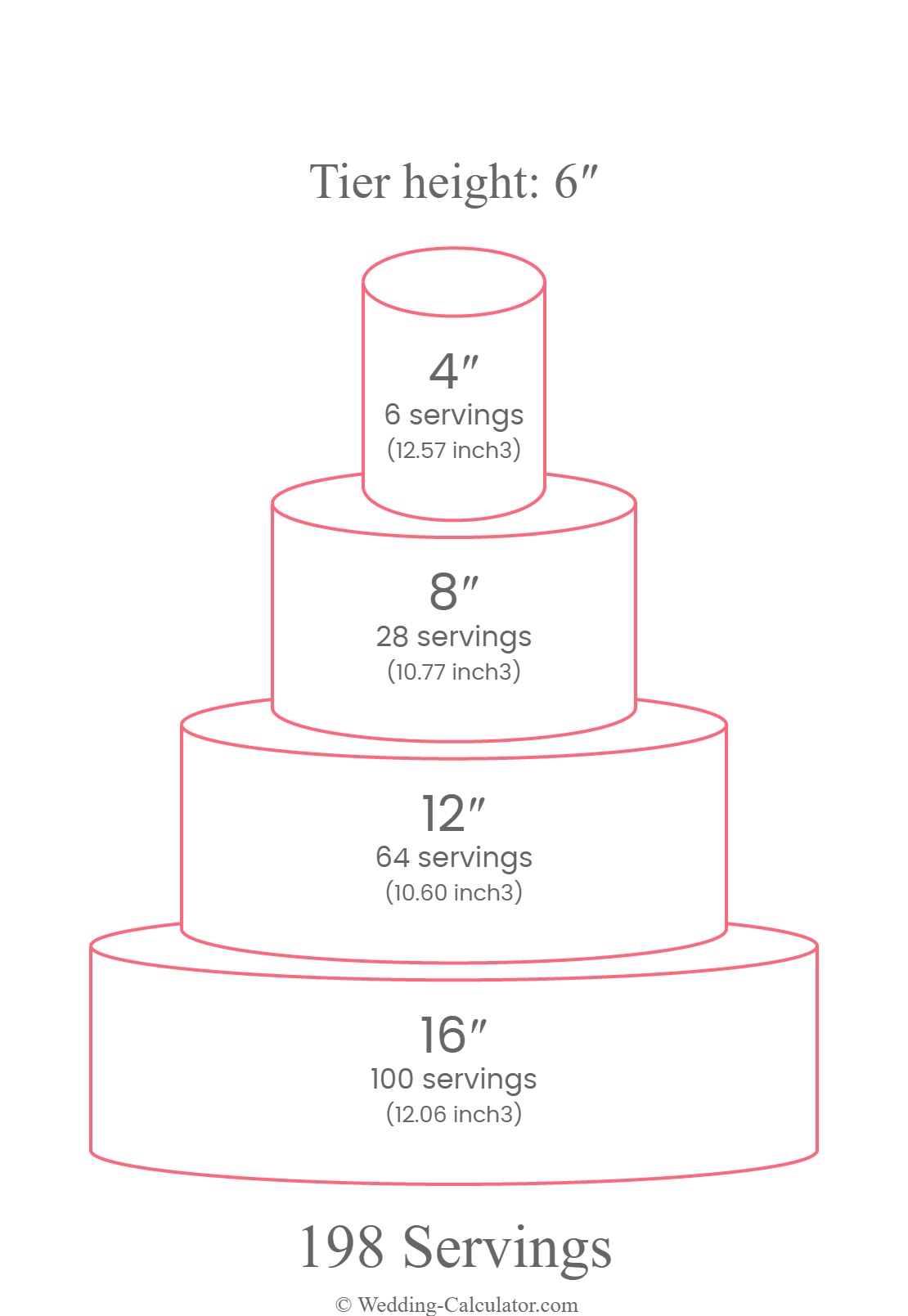 TIER 1 OF 4
Height: 6″ - Diameter: 16″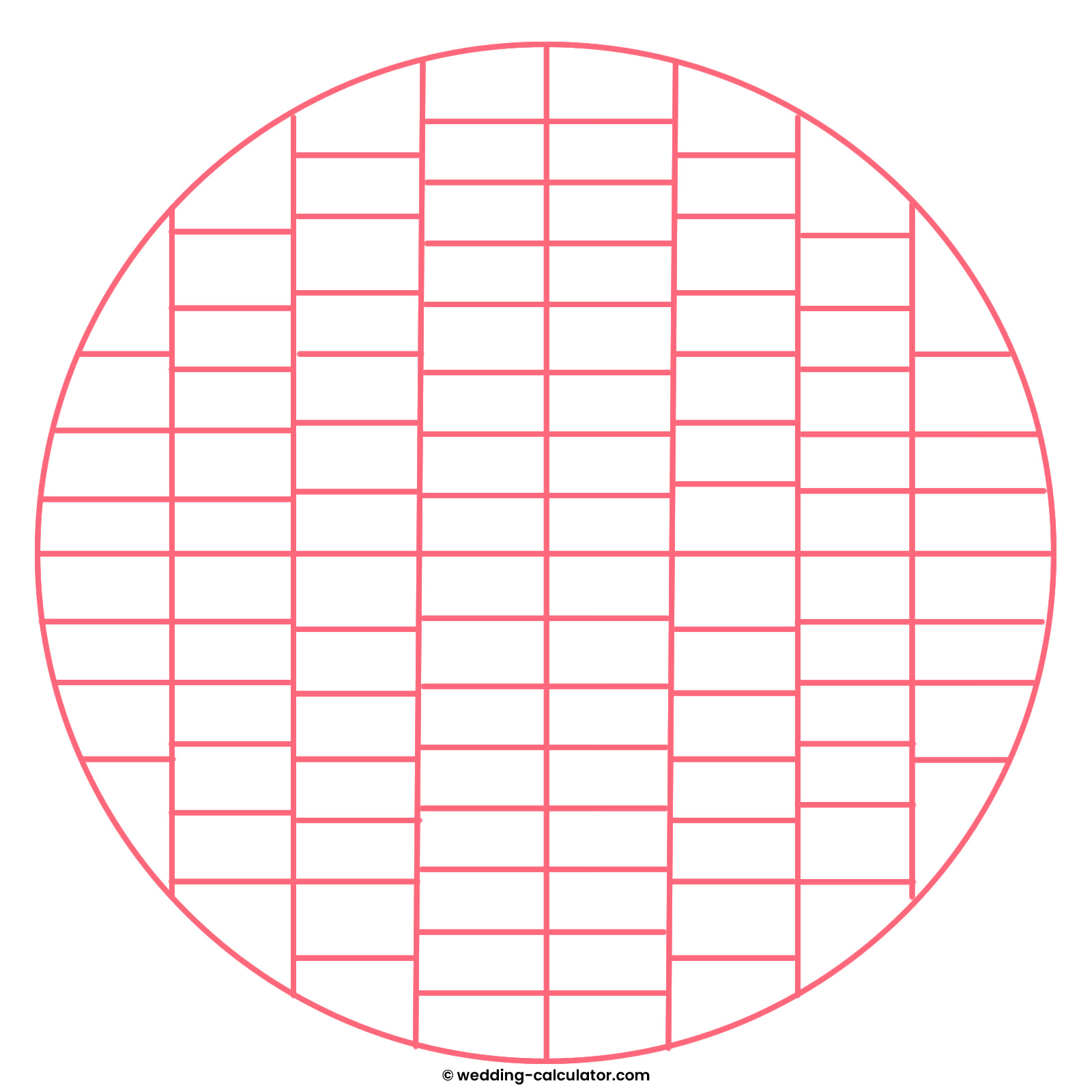 100 Portions
TIER 2 OF 4
Height: 6″ - Diameter: 12″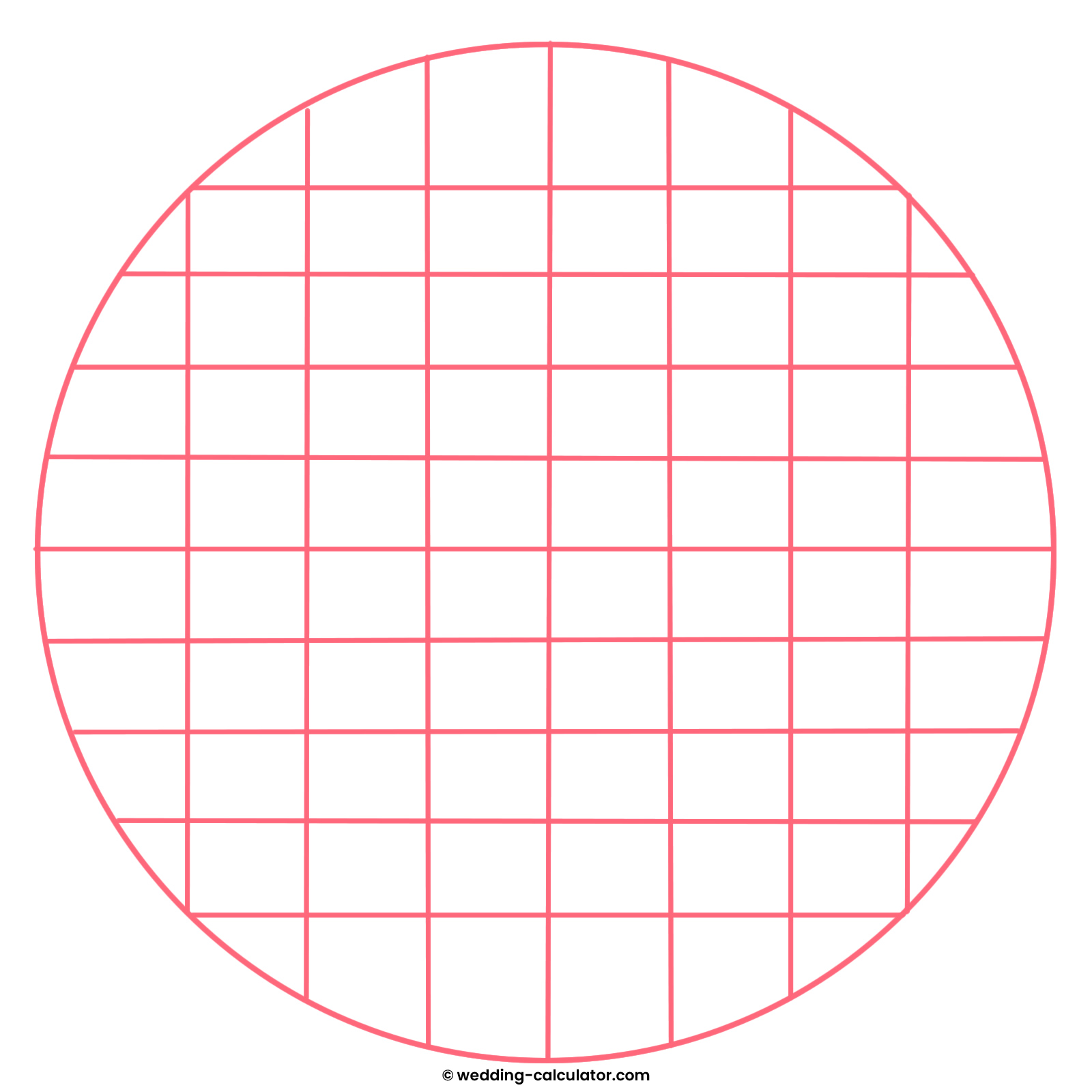 64 Portions
TIER 3 OF 4
Height: 6″ - Diameter: 8″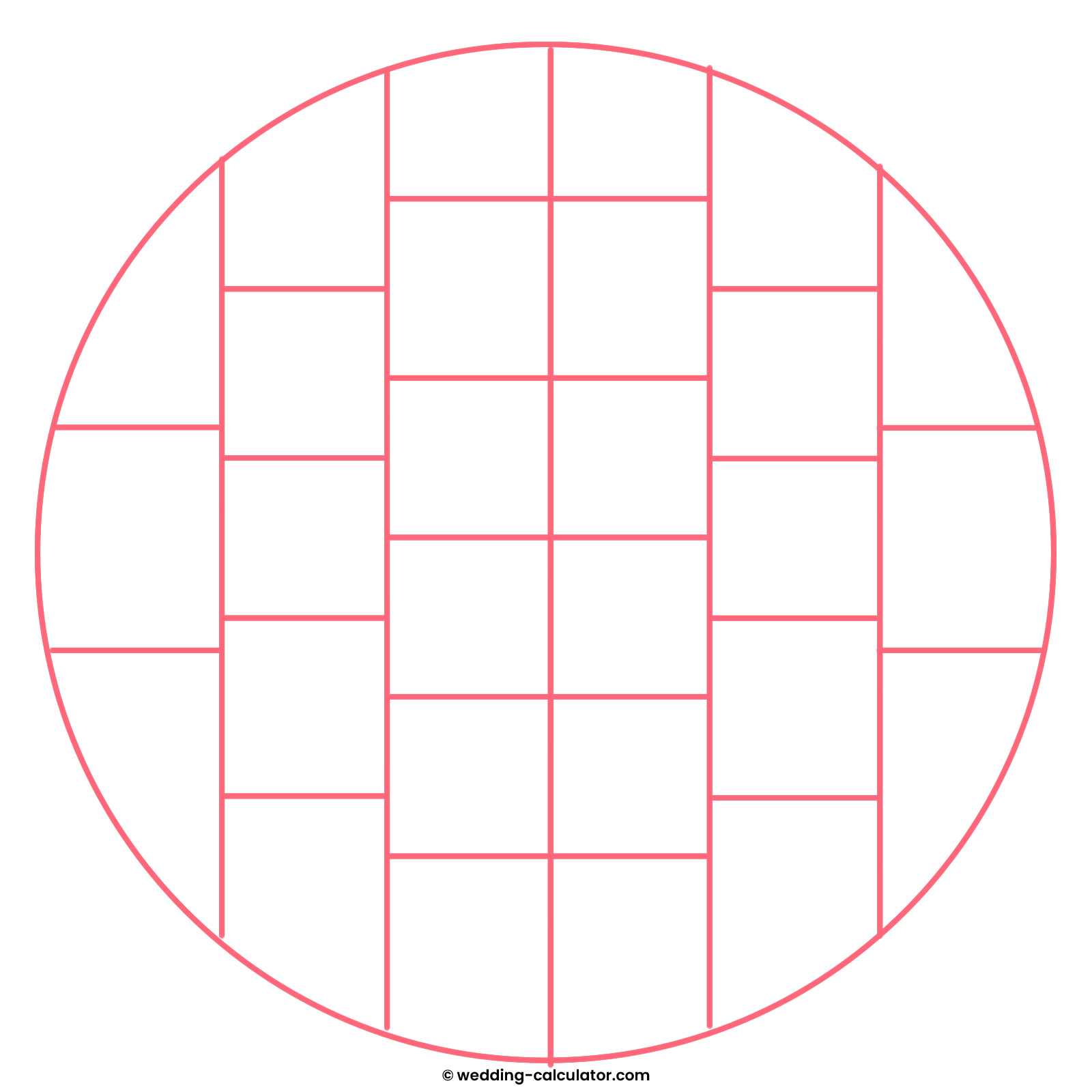 28 Portions
TIER 4 OF 4
Height: 6″ - Diameter: 4″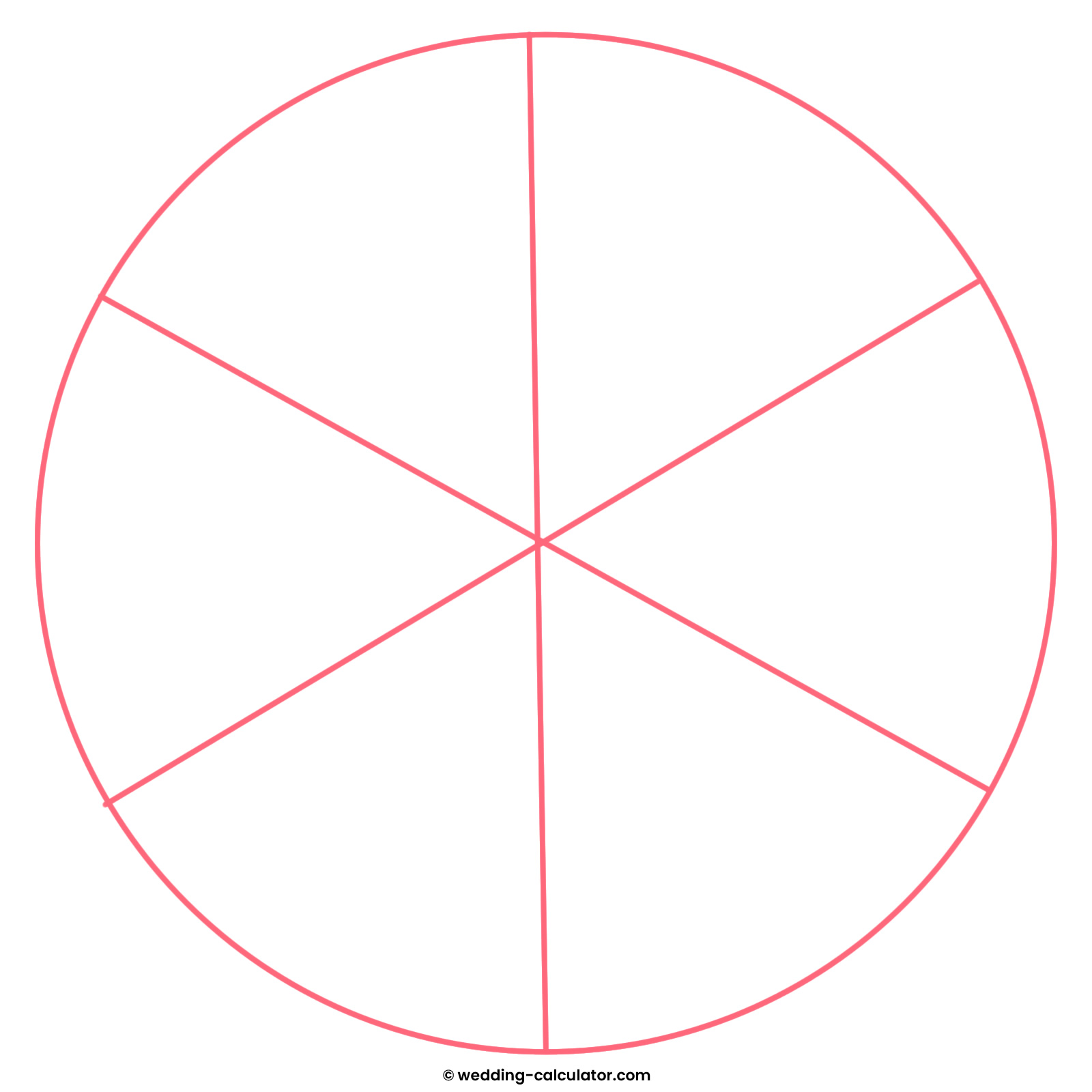 6 Portions
This cake has enough space for the bridal couple to cut a first piece of the bottom tier together hassle-free.

4 - Servings chart for 300 guests
Do you really want to go big? How about a wedding cake with no less than 7 tiers! Be aware, you will be needing professional staff to safely and correctly handle and cut such a big one.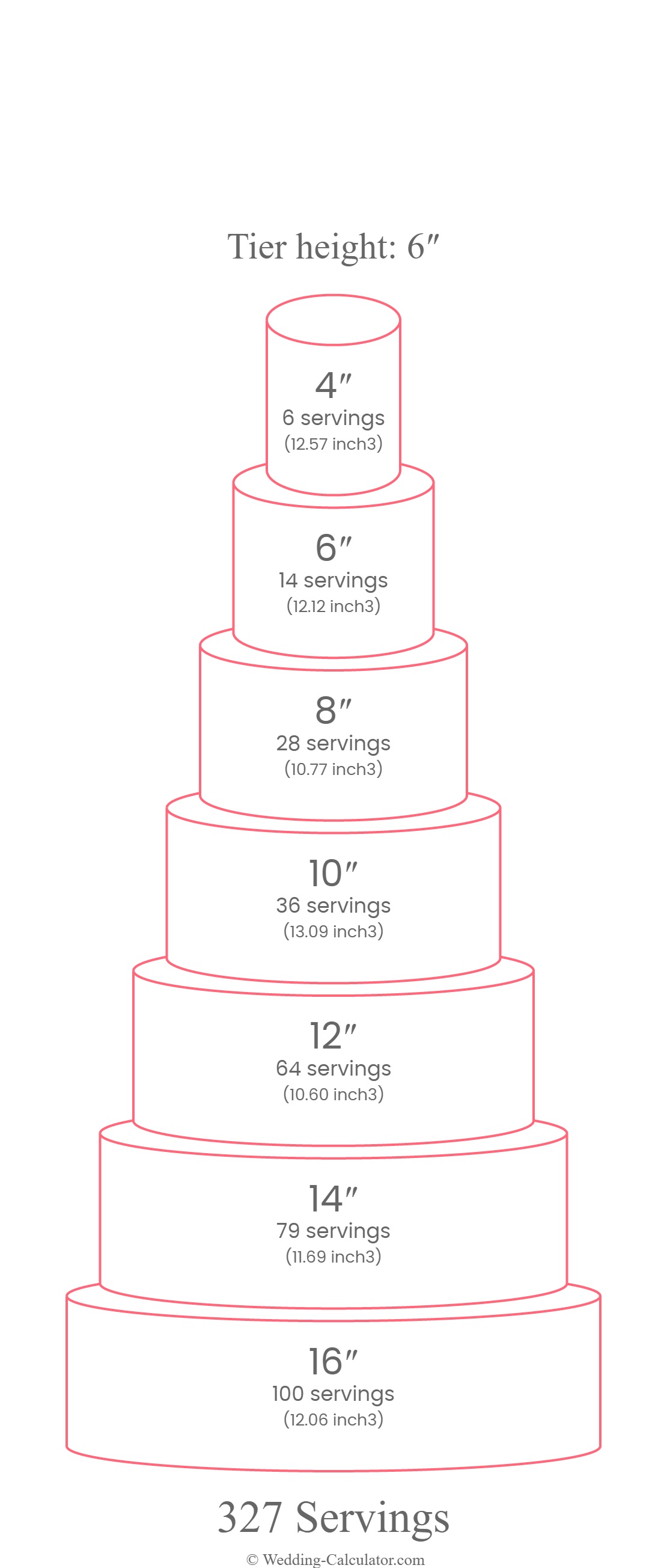 TIER 1 OF 7
Height: 6″ - Diameter: 16″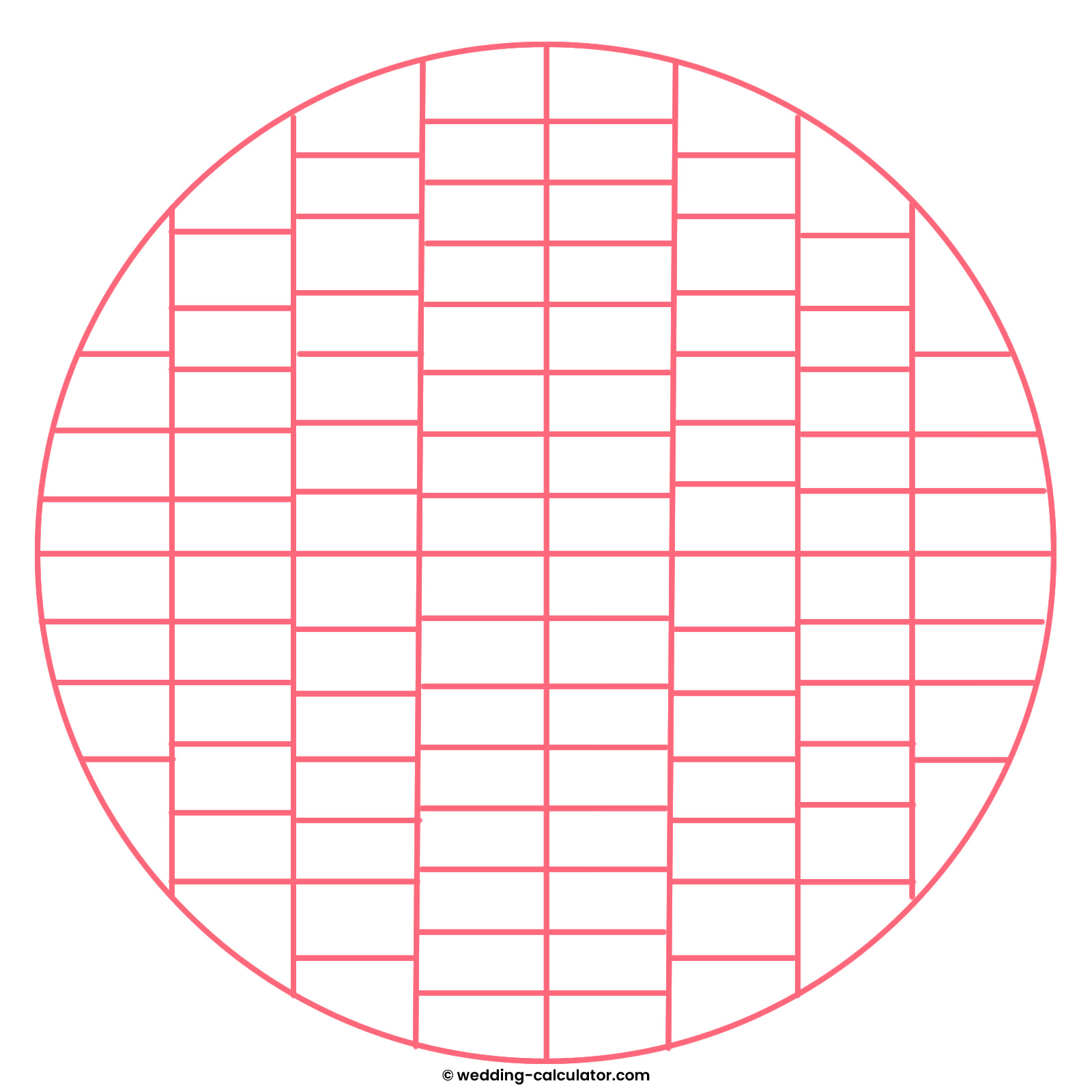 100 Portions
TIER 2 OF 7
Height: 6″ - Diameter: 14″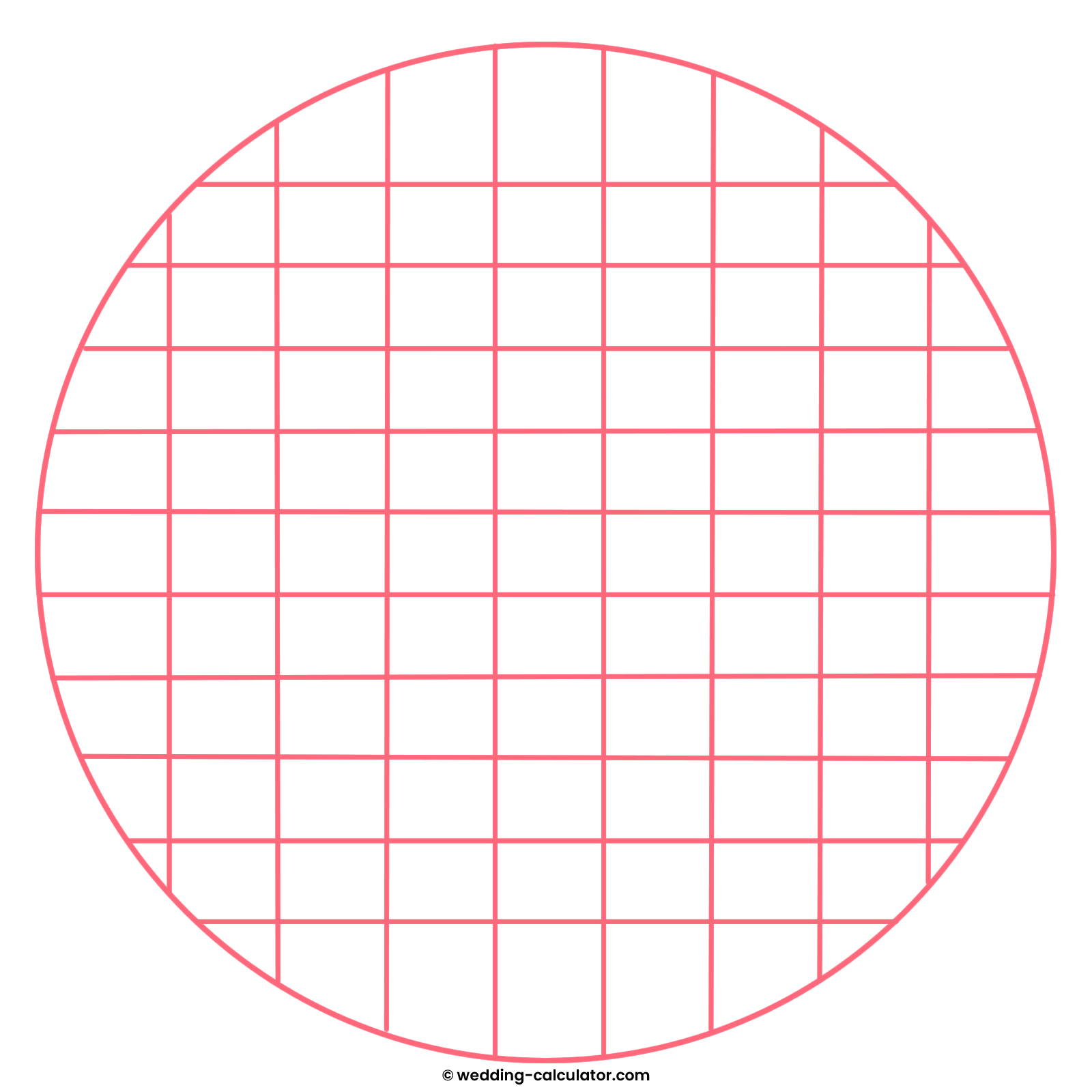 79 Portions
TIER 3 OF 7
Height: 6″ - Diameter: 12″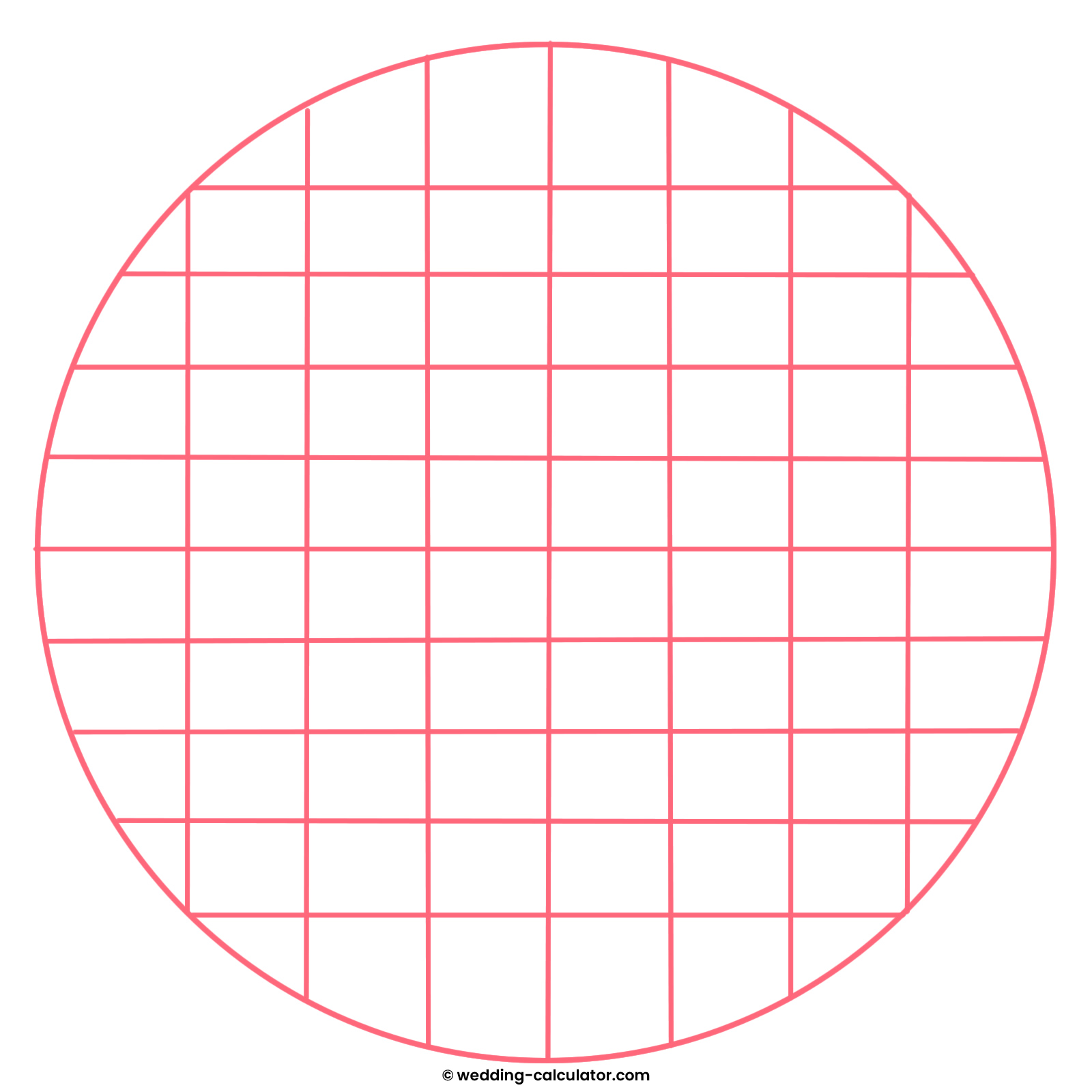 64 Portions
TIER 4 OF 7
Height: 6″ - Diameter: 10″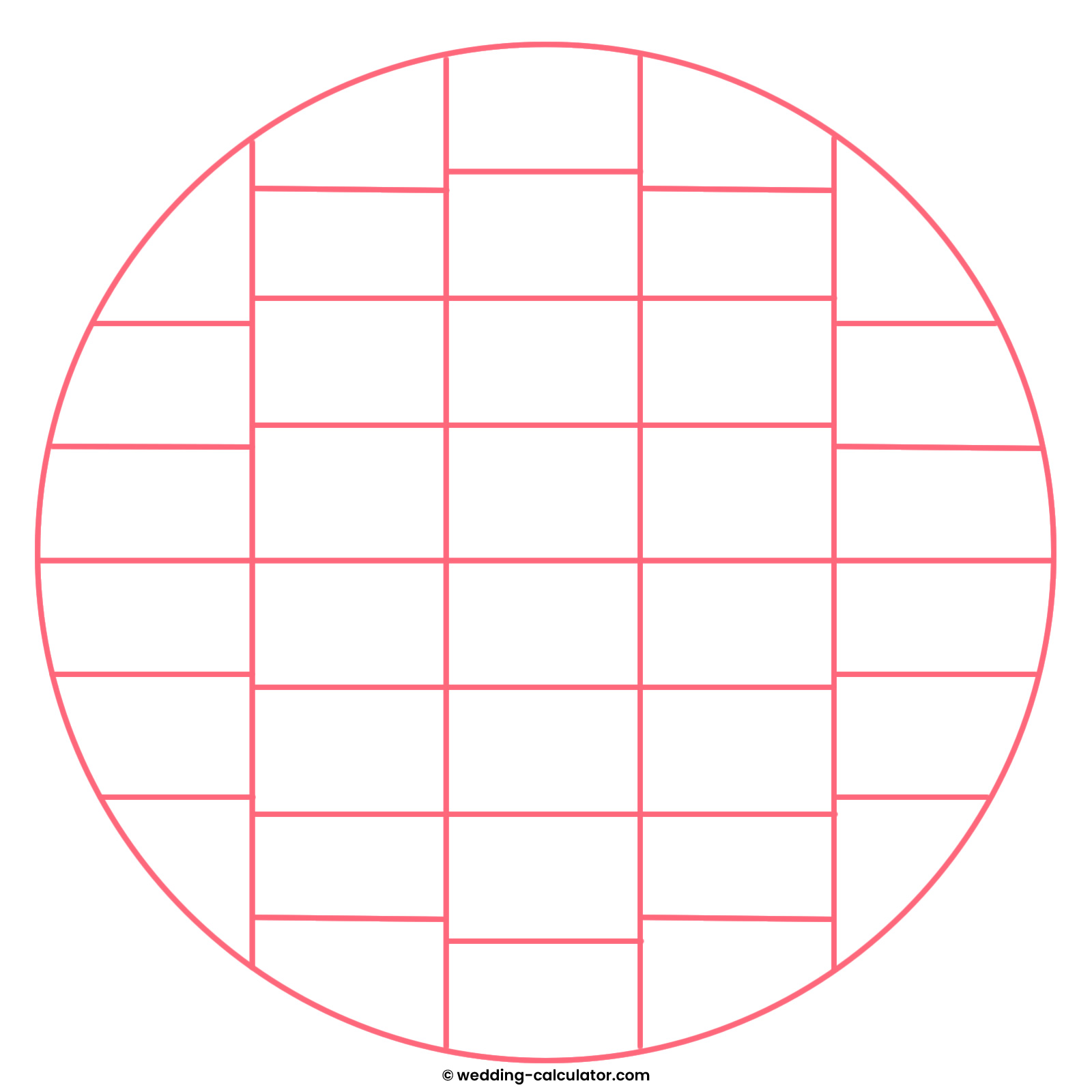 36 Portions
TIER 5 OF 7
Height: 6″ - Diameter: 8″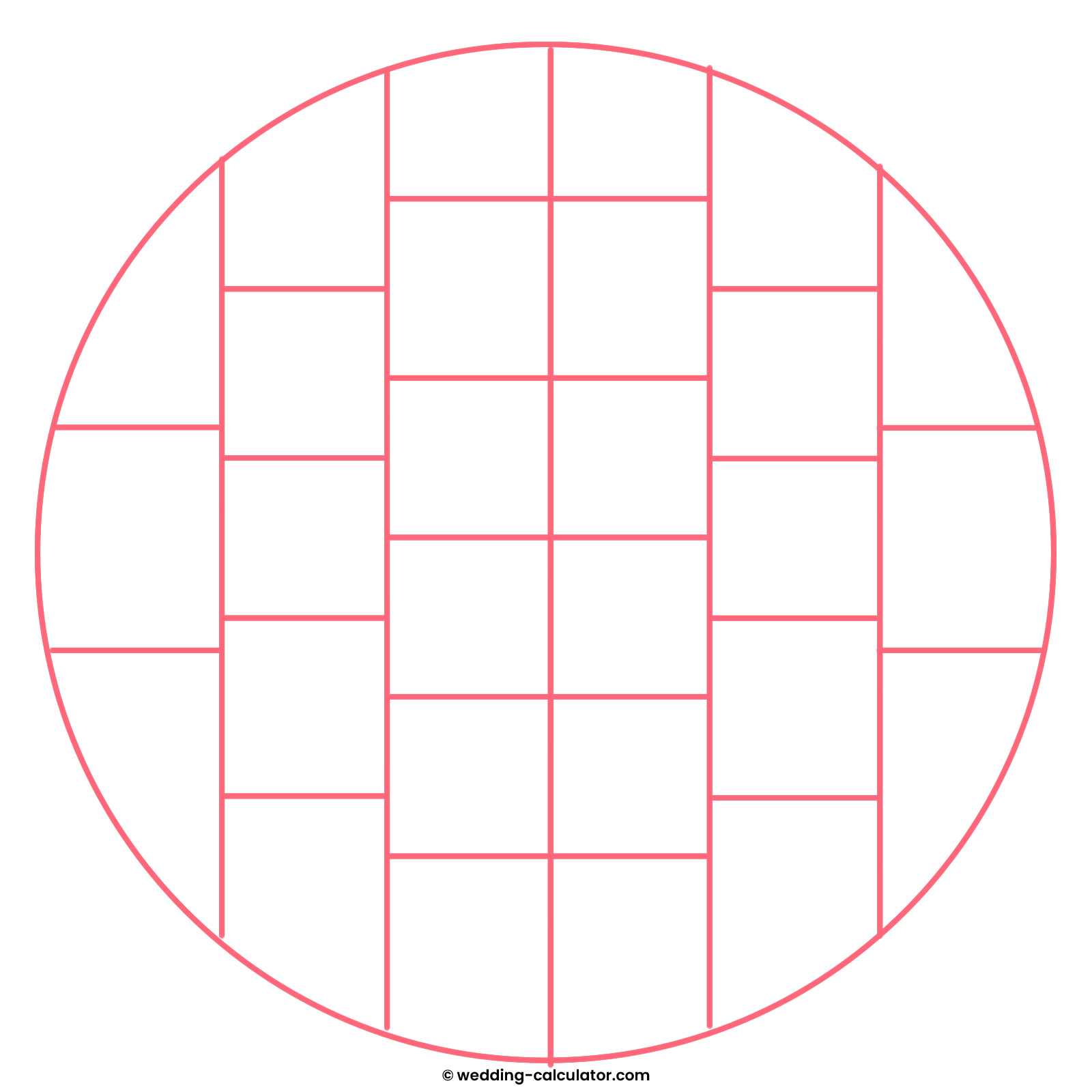 28 Portions
TIER 6 OF 7
Height: 6″ - Diameter: 6″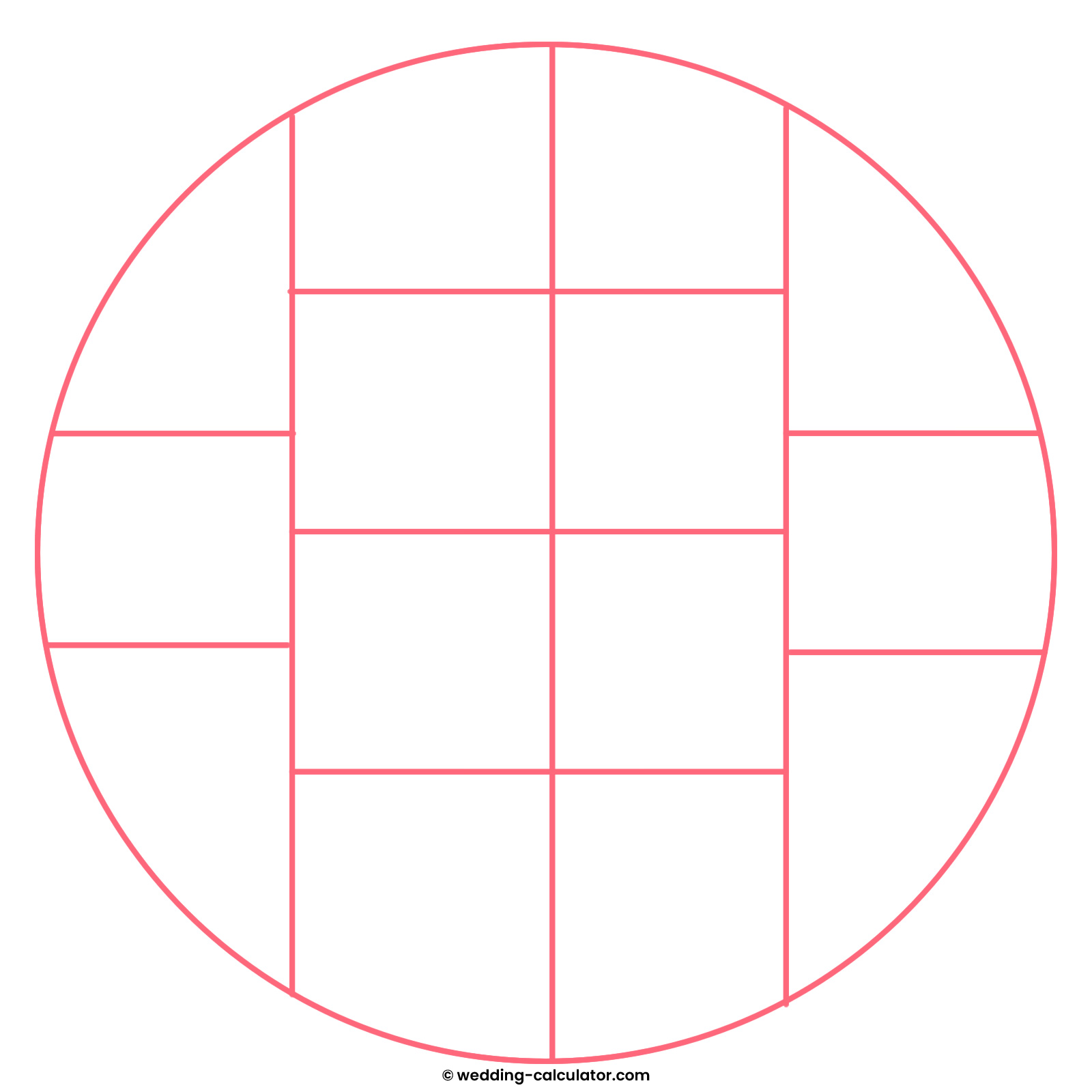 14 Portions
TIER 7 OF 7
Height: 6″ - Diameter: 4″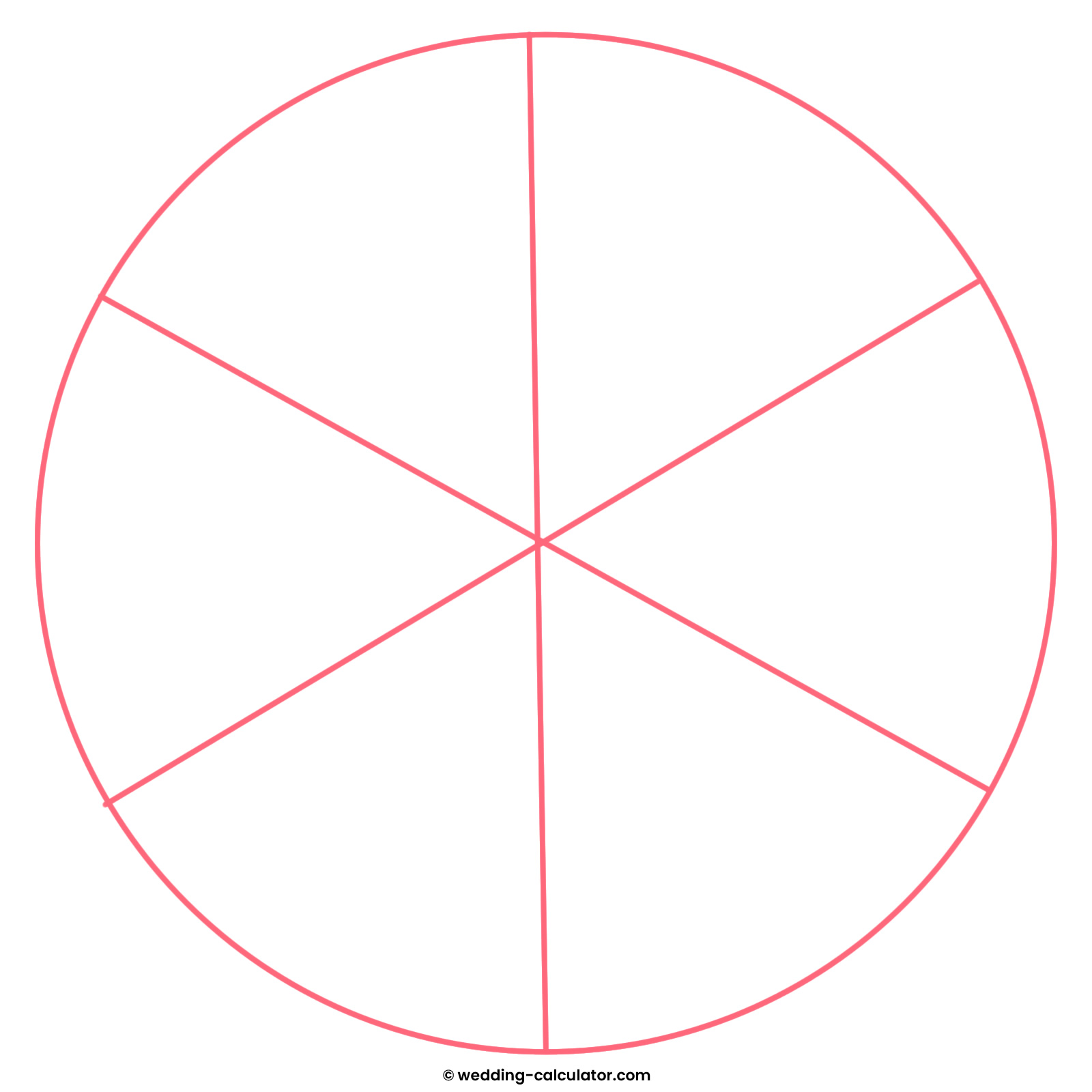 6 Portions
When about 30 guests (10%) are expected to have food allergies (mainly cow's milk, eggs, nuts and peanuts), the 4th tier can be prepared here especially for these guests.
Other great wedding calculators
WEDDING BUDGET CALCULATOR
Do you need help on how much money to plan for you wedding? This Budget Calculator will estimate the costs. You can also download a customized spreadsheet for your wedding budget for free.